Updated: Woman Missing After 50-Foot Boat Sinks Off Fishers Island


Sunday, 19 August 2012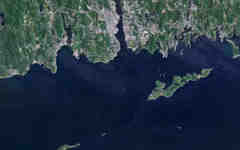 East Haddam-Killingworth, CT --

 

*6:30 p.m.: *The United States Coast Guard and several area fire departments are continuing to search for a woman off of Fishers Island after a 50-foot pleasure boat overturned.

According to Lt. Jeff Janaro of the U.S.C.G., between 2:30 and 3 p.m. the privately-owned boat had 10 people...
Source: WPRI CBS 12 Providence - on August 20, 2012

The Coast Guard says rescuers have found the body of a woman in a boat that sank in Long Island Sound near Fishers Island.
Recent related news

Captain of Sunken South Korea Ferry: 'I'm Sorry'
Lee Joon Suk, captain of the South Korean ferry which sunk off the coast of Jindo Island on Wednesday, is facing possible charges of negligence, CNN...
Mashable 4 days ago - Internet
Also reported by •VOA News •Huffington Post

South Korean Coast Guard Releases Dramatic Footage of Sunken Ferry
The South Korean coast guard has released raw video showing the dramatic search and rescue efforts at the scene of the sunken passenger ferry. See also: 4...
Mashable 5 days ago - Internet

4 Dead, Hundreds Missing After Ferry Sinks Off South Korean Coast
Four people are dead, 55 are injured and hundreds are missing after a ferry carrying more than 470 people capsized off the southern coast of South...
Mashable 5 days ago - Internet
Also reported by •VOA News •Huffington Post
You Might Like
Other recent news in US
| | |
| --- | --- |
| Car crashes through Florida church during EASTER service with 200 parishoners, trapping some | POPE FRANCIS, huge crowd joyously celebrate Easter |
| Easter Monday 2014: Banks Open, Closed; Wells Fargo, Citibank, Bank of AMERICA, Chase, TD Bank, Mail, Post Office, DMV, Schools, Stock Market? | 'Heaven Is for Real' Rides Faith-Based Wave to Big Easter Score at BOX OFFICE |
| The BOSTON MARATHON: Step by step, the race lives on | BOSTON Marathon: Marathoners ready to run, honor victims |
| Teenage runaway survives five-hour flight in jet's WHEEL WELL from California to Hawaii | High School Student Suspended for Asking MISS AMERICA to Prom |
| FBI: 16-Year-Old Stows Away on California-HAWAII Flight | More Water for CALIFORNIA Farmers, Depending on Where They Live |
Twitter
Comments
comments powered by