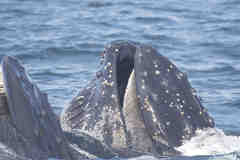 by Stephanie Boyd



Sightings of a number of humpback and blue whales along the coast of California have excited onlookers over the past days - but officials warn people to keep their distance

SANTA CRUZ, CA -- There has been a big increase in numbers of endangered blue and humpback whales along the coast of California over the past days. Driven by the unusual abundance of tiny, shrimp-like critters known as krill, the whales have been flocking close to shore.

Observers in Monterey Bay reported numerous sightings of an impressive number of blue whales, which are the largest animals on earth.

"It's phenomenal that these humongous creatures are out there and we just get to go out on a boat and go out and watch them," Santa Cruz resident Susan Stuart was quoted by CBS News as saying after a recent whale-watching cruise.

Harbor patrol officers in the area are on high alert due to the potential danger the whales could pose to swimmers and boaters.

Within the past week, we've actually had a couple of incidents where people have been knocked off of their kayaks, so we're just out there trying to keep people safe," said Harbor Patrol Officer Chris Weddle.

He urged people to keep at least 100-yeards distance from the massive mammals, which are typically 40-50ft long and weight around 79,000lb (36,000kg).
You Might Like
Other recent news in US
Twitter
Comments
comments powered by
•More original news reports from One News Page