Massive tropical storm Isaac aims at New Orleans, forecast to strengthen to category 2 hurricane


Tuesday, 28 August 2012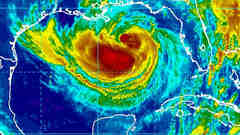 by Alice Monroe



President Obama has declared a state of emergency in Louisiana as strengthening tropical storm Isaac is heading for New Orleans

NEW ORLEANS, LA -- Tropical storm Isaac - forecast to strengthen to a category 2 hurricane - is set to hit New Orleans on Tuesday, nearly seven years to the day after Hurricane Katrina devastated the Louisiana city.

Isaac is crossing the Gulf of Mexico after leaving at least 24 people dead in Haiti and the Dominican Republic.

President Obama declared a state of emergency in Louisiana, making available funds for recovery activities.

The Federal Emergency Management Agency has activated incident management teams in Louisiana and Florida to help state and local agencies respond to any damage caused by the storm. Nearly half a million meals, more than 1 million liters of drinking water, and nearly 5,000 blankets along with other supplies have been shipped into warehouses in Montgomery, AL and Jacksonville, FL.

At 02.00am EDT on Tuesday, Isaac remained a tropical storm with winds of 70mph, moving northwest at around 12mph from its location 145 miles southeast of the mouth of the Mississippi River. Due to the size of the storm, its winds could be felt more than 200 miles away.

"A large, slow-moving system is going to pose a lot of problems: winds, flooding, storm surge and even potentially down the road river flooding," said Richard Knabb, director of the U.S. National Hurricane Center in Miami, Florida. "That could happen for days after the event."

The center warned that the storm could flood the northern Gulf Coast with a storm surge of up to 12ft in some areas.
Source: WEWS ABC 5 Cleveland, OH - on August 24, 2012

Update on tropical storm Isaac.
You Might Like
Other recent news in US
Twitter
Comments
comments powered by
•More original news reports from One News Page