Report Says Tri-Cities Will Save Millions in Police Dispatch Consolidation


Wednesday, 19 September 2012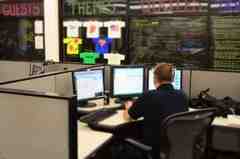 Newark, NJ --

Consultants recently determined Fremont, Newark and Union City could save millions of dollars if they move forward with a joint police dispatch service, according to media reports.

But one city may not take part.

The Fremont Argus reported that Newark officials are deciding to not consolidate its police...
You Might Like
Other recent news in US
Twitter
Comments
comments powered by