VIDEO: DC Under Heightened Alert After Boston Marathon Explosion


Comment

Monday, 15 April 2013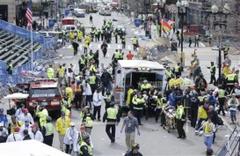 Patch Del Ray, VA --

Washington first responders are on heightened alert after explosions killed and injured several people near the finish line of the Boston Marathon on Monday afternoon. The marathon was stopped immediately as police and emergency workers responded to the scene.

Just after 3 p.m. Monday two explosions...
You Might Like
Other recent news in US
Twitter
Comments
comments powered by