WikiLeaks founder Julian Assange breaks bail condition to seek political asylum


Wednesday, 20 June 2012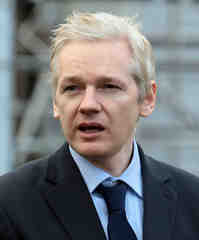 by Stephanie Boyd



Julian Assange, the founder of WikiLeaks, requested asylum at Ecuador's London Embassy on Tuesday night. By staying there overnight, he has breached his bail conditions and now faces arrest, police have said.

LONDON, United Kingdom -- Julian Assange, the 40-year-old founder of diplomatic whistle-blowing website WikiLeaks, has taken refuge at Ecuador's London Embassy asking for asylum in a last-ditch bid to avoid extradition to Sweden over sex crime allegations.

He stayed at the Ecuadorian Embassy in London's Knightsbridge on Tuesday night whilst his asylum request made under the United Nations Human Rights Declaration was being considered by the Ecuadorian government.

"As a signatory to the United Nations Universal Declaration for Human Rights, with an obligation to review all applications for asylum, we have immediately passed his application on to the relevant department in Quito," said a statement from the Embassy.

"While the department assesses Mr Assange's application, Mr Assange will remain at the embassy, under the protection of the Ecuadorian Government," the statement concluded.

By staying at the Embassy overnight, Assange has broken one of his bail conditions and is now subject to arrest under the Bail Act.

A Metropolitan Police spokesman said: "One of the conditions was that he was supposed to be at a named bail address between 10pm and 8am, and it was 10.20pm that we were notified that he had breached that particular condition."

Assange's latest move comes amid fears that his extradition to Sweden may lead to him being sent to the United States to face charges over whistle-blowing website Wikileaks, for which he could face the death penalty.

His website has published a mass of leaked diplomatic cables that embarrassed several governments, and in particular the U.S. administration.
Source: Press Association UK - on June 20, 2012

WikiLeaks founder Julian Assange last night applied for political asylum at the Ecuadorian Embassy in London after failing in his bid to avoid extradition to Sweden to face sex crime allegations.
You Might Like
Other recent news in World
Twitter
Comments
comments powered by
•More original news reports from One News Page