Turkey concedes its warplane downed by Syria may have violated Syrian airspace


Saturday, 23 June 2012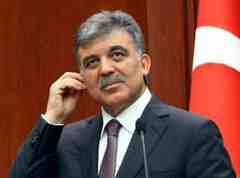 by Alice Monroe



The Turkish fighter jet shot down by Syria's air defence forces may have strayed into Syrian airspace, Turkish President Abdullah Gul conceded on Saturday

ISTANBUL, Turkey -- A Turkish warplane shot down by Syrian defence forces may have crossed the border and violated Syrian airspace, according to Turkish President Abdullah Gul.

The Turkish President made the concession in an interview on Saturday, but pointed out there was no reason for Syria to interpret the move as a hostile act.

"It is routine for jet fighters to sometimes fly in and out over (national) borders ... when you consider their speed over the sea," Gul told the Anatolia news agency. "These are not ill-intentioned things but happen beyond control due to the jets' speed."

Gul confirmed a search operation for the plane and missing pilots was still underway.

The incident marked a further escalation in tensions between Turkey and Syria, which used to be close allies until the uprising against Syrian President Bashar al-Assad began in March 2011.

Since then, more than 30,000 Syrian refugees have fled across the border into Turkey amid the Syrian regime's violent response to the uprising.
Source: Associated Press - on June 23, 2012
Syria said Saturday that it shot down a Turkish military jet because the aircraft had violated its airspace, but Turkey threatened retaliatory action as it searched for its two missing pilots. (June 22)
You Might Like
Other recent news in World
Twitter
Comments
comments powered by
•More original news reports from One News Page