Elderly lady ruins Ecce Homo painting during restoration attempt


Thursday, 23 August 2012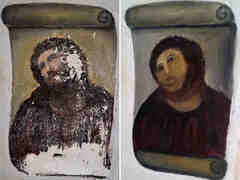 by Stephanie Boyd



An elderly Spanish parishioner has unintentionally ruined a valuable piece of art when she made an unauthorized attempt to restore a prized Jesus Christ fresco

ZARAGOZA, Spain -- An elderly Spanish lady in her 80s decided to give a 19th-century Spanish fresco a facelift by attempting to restore it - but failed.

Without prior authorization, the Cecilia Gimenez took a paintbrush to the "Ecce Homo" ("Behold the Man") masterpiece by Elias Garcia Martinez which had been residing in the Sanctuary of Mercy Church of Borja near Zaragoza for more than a century in an attempt to restore it to its former glory.

The precious painting had suffered years of deterioration due to moisture.

Unfortunately, the lady's well-intended restoration attempt failed badly, and the once dignified portrait now resembles a child's sketch.

One onlooker described the "restored" painting as "a hairy monkey in an ill-fitting tunic".

The city's councillor for cultural affairs, Juan Maria Ojeda, said: "I think she had good intentions. Next week she will meet with a repairer and explain what kind of materials she used."

"If we can't fix it, we will probably cover the wall with a photo of the painting," Ojeda concluded.
You Might Like
Other recent news in World
Twitter
Comments
comments powered by
•More original news reports from One News Page