Killing of George Floyd
May 2020 police killing of an unarmed man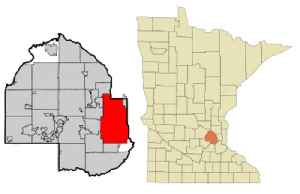 On May 25, 2020, George Floyd, a 46-year-old black man, was killed in Minneapolis, Minnesota, while being arrested for allegedly using a counterfeit bill. During the arrest Derek Chauvin, a white police officer with the Minneapolis Police Department, knelt on Floyd's neck for several minutes after he was already handcuffed and lying face down. Two police officers, J. Alexander Kueng and Thomas Lane, assisted Chauvin in restraining Floyd, while another officer, Tou Thao, prevented bystanders from interfering with the arrest and intervening as events unfolded.


Crump decries claim that Floyd died of drug overdose

Benjamin Crump, the lawyer representing George Floyd's family, pushed back against the assertion made by police officers' defense attorneys in court filings that Floyd, who had fentanyl in his system,..
Credit: Reuters Studio Duration: 01:31
Published
You Might Like



Judge Dismisses Third-Degree Murder Charge Against Derek Chauvin in George Floyd Killing

The judge upheld the more serious charge of second-degree murder against Derek Chauvin, the former Minneapolis police officer who was captured on video kneeling on Mr. Floyd's neck.




NYTimes.com - Published





George Floyd's records breached after his death, attorney says

Floyd's attorney said the letter did not specify what information was accessed.




CBS News - Published





More than a dozen police chiefs faced backlash – and left – after George Floyd's death. Here's a list.

George Floyd's death sparked a wave of protests. Here's a list of police chiefs who have have been fired, resigned or abruptly retired since then.




USATODAY.com - Published




A Black man pinned to the ground by NY police died two months before George Floyd's death

Daniel Prude died in March, two months before George Floyd's very similar death in Minneapolis, yet it didn't become public until now.




USATODAY.com - Published




How George Floyd's death unified community activists in Minneapolis

The death of George Floyd at the hands of Minneapolis police sparked protests nationwide against police brutality and racial injustice. CBS News' Brandi Kellam spoke with local leaders in Minneapolis..




CBS News - Published





Derek Chauvin, former officer accused in George Floyd's death, wants murder charges dismissed

Attorneys for Derek Chauvin, former Minneapolis officer accused of killing George Floyd, have asked a judge to dismiss the murder charges against him.




USATODAY.com - Published




How the killings of Emmett Till and George Floyd sparked 2 movements 65 years apart

In an editorial written by Congressman John Lewis and published on the day of his funeral, the longtime civil rights activist wrote "Emmett Till was my George Floyd." The horror of both killings,..




CBS News - Published





"The Power of August"

"The Power of August" looks back at transformational moments in American civil rights history that happened in the month of August. Anchored by Maurice DuBois, "The Power of August" is..




CBS News - Published





George Floyd Case, State Will Seek Harsher Sentence For Cop Derek Chauvin

Derek Chauvin -- the ex-Minneapolis cop charged with murdering George Floyd -- deserves an especially harsh sentence because, among other things, he killed Floyd in front of kids ... according to..




TMZ.com - Published





George Floyd's brother and sister speak at March on Washington

"I wish George were here to see this right now," George Floyd's brother, Philonise Floyd, told the crowd at the March on Washington for racial justice and police reform. "We have to be the change," his..




CBS News - Published





Stacy Brown-Philpot, TaskRabbit's outgoing CEO, on being Black in Silicon Valley after George Floyd

Stacy Brown-Philpot, outgoing CEO of TaskRabbit and one of tech's most prominent Black women leaders, talks George Floyd, Kamala Harris and racism.




USATODAY.com - Published





George Floyd, Day 2 of the RNC, tropical storms: 5 things to know Tuesday

Tuesday marks three months since the death of George Floyd, Day 2 of the Republican National Convention and more news to start your morning.




USATODAY.com - Published





George Floyd mural covered after vandalism

Someone has defaced a giant mural of George Floyd at the Minneapolis intersection where he died in May. The mural was sprayed with black paint and is now covered by a blue tarp. (Aug. 20)  




USATODAY.com - Published





Mom of DJ Henry, man killed by police in 2010: "It's heartbreaking to see that nothing has changed"

Dan and Angella Henry describe how George Floyd's tragic death on the street in handcuffs brings back the horrible memory of how their son DJ died 10 years ago. The Henrys share that even though it..




CBS News - Published





George Floyd's brothers lead DNC moment of silence

The family of George Floyd, the Minnesota man whose death in police custody sparked a national awakening on racial injustice, led a moment of silence Monday night in the early moments of the 2020..




USATODAY.com - Published





Officer charged in George Floyd's case speaks out

Officer Tou Thao, who is being charged with aiding and abetting murder in the George Floyd's case, spoke out about his involvement in the case. Thao claims he was merely trying to control the crowd..




CBS News - Published





A 'huge moment' for police reform that could reshape Black communities for generations

Communities across the U.S. are having serious conversations about how to reimagine policing in wake of George Floyd's death. Hard work lies ahead.




USATODAY.com - Published




Footage of Police Body Cameras Offers Devastating Account of Floyd Killing

The footage was made available by appointment at a court in Minneapolis, and shows officers seemingly more concerned with controlling George Floyd's body than saving his life.




NYTimes.com - Published





Reporter describes police bodycam of George Floyd

An Associated Press reporter describes police bodycam video of officers' fatal encounter with George Floyd. Police have allowed news organizations to view the video but haven't released it for..




USATODAY.com - Published





George Floyd's family files civil lawsuit

George Floyd's family filed a civil rights lawsuit Wednesday against the city of Minneapolis and the four police officers charged in his death. (July 15)  




USATODAY.com - Published




Trump says 'more white people' are killed by police, while studies show Black people are more likely to be killed

President Trump's comments come after weeks of protests against racism and police brutality in the wake of George Floyd's death.




USATODAY.com - Published





Bon Jovi pays tribute to George Floyd, Black Lives Matter on 'American Reckoning' single

A new Bon Jovi track, "American Reckoning," touches on the death of George Floyd and the impact of the Black Lives Matter movement.




USATODAY.com - Published





Thomas Lane, former Minneapolis police officer who held George Floyd's legs, seeks dismissal of charges

An attorney for former Minneapolis officer Thomas Lane said in a court filing that Lane twice asked if George Floyd should be rolled on his side.




USATODAY.com - Published




California officer under investigation for allegedly sharing 'vulgar image' of George Floyd; NAACP San Diego calls for his firing

A San Diego officer is under investigation for allegedly sharing an "altered photograph" of a "naked black male porn star" kneeling on George Floyd.




USATODAY.com - Published




Derek Chauvin, three other ex-Minneapolis Police officers charged in George Floyd death expected in court Monday

The court session in Minneapolis comes more than one month after George Floyd died when Derek Chauvin knelt on Floyd's neck for nearly nine minutes.




USATODAY.com - Published




House approves sweeping police reform package that would ban chokeholds, end qualified immunity after George Floyd death

The House approved a sweeping police reform package that would end certain legal protections for officers accused of misconduct and ban chokeholds, the maneuver that a Minneapolis police officer held..




USATODAY.com - Published





A month after George Floyd's death, the hard work begins in Minneapolis, St. Paul

Jacob Frey and Melvin Carter have a lot in common, including that both campaigned on police reform. A month after George Floyd's death, here's where they stand.




USATODAY.com - Published




Jail Only Allowed White Staff to Guard Ex-Officer Charged With Killing George Floyd

Eight correctional officers said people of color who work in the jail were initially moved away from Derek Chauvin, the officer accused of killing George Floyd.




NYTimes.com - Published





After George Floyd, students sick of 'lip service,' want action from colleges over racism

After George Floyd's death, universities condemned racism. But many students say the statements are empty rhetoric; what they want is action.




USATODAY.com - Published





Brother of George Floyd urges U.N. probe into U.S. racism, violence

The brother of the late George Floyd called on the top U.N. human rights body on Wednesday to investigate police brutality and racial discrimination in the United States.




Reuters - Published




NYPD closes anti-crime unit in nod to reform

New York City's police department is disbanding the controversial unit involved in Eric Garner's 2014 chokehold death, Commissioner Dermot Shea said Monday amid a nationwide reckoning for policing in..




USATODAY.com - Published





Bail raised to $1.25 million for former police officer in George Floyd death

Bail for the white former Minneapolis police officer charged with murdering African American George Floyd, whose death ignited two weeks of protests, was raised by $250,000 to $1.25 million at a..




Reuters - Published





Democrats to honor George Floyd with 8 minutes, 46 seconds of silence

Democrats will stand in silence for 8 minutes and 46 seconds, the amount of time George Floyd lay on the street with a police officer's knee on his neck.




USATODAY.com - Published





George Floyd, Tropical Storm Cristobal, Derek Chauvin in court: 5 things to know Monday

George Floyd's public viewing, Tropical Storm Cristobal makes landfall in Louisiana, NYC begins to reopen and more things to start your Monday.




USATODAY.com - Published





Protesters march again, demanding justice after George Floyd killing

A relaxed confidence infused a new round of street protests in New York and other major cities on Sunday, a day after some of the largest demonstrations since the killing of George Floyd in Minneapolis..




Reuters - Published





Democratic U.S. presidential candidate Joe Biden to meet George Floyd's family

Democratic U.S. presidential candidate Joe Biden will travel to Houston on Monday and meet with the family of George Floyd, two weeks after Floyd's death in police custody triggered nationwide protests..




Reuters - Published





George Floyd live updates: Protesters confront mayors; police investigations announced

Numerous peaceful confrontations between protesters and authority figures have captured attention as protests honoring George Floyd continue.




USATODAY.com - Published




U.S. Democrats, black lawmakers ready response to George Floyd death

Two weeks after George Floyd's death in police custody sparked nationwide protests, Democrats led by black members of the U.S. Congress are set to introduce legislation to combat police violence and..




Reuters - Published





'Enough is Enough': Jamaicans protest in support of George Floyd

Wearing black and braving a blistering sun, Jamaicans gathered on Saturday to lend support to global protests against police abuses sparked by the death of George Floyd in Minneapolis last month.




Reuters - Published





Murals honor George Floyd and Black Lives Matter movement

Murals honor George Floyd and the Black Lives Matter movement across the nation and around the world.  




USATODAY.com - Published





Mourners gather in Raeford, NC to honor life of George Floyd at memorial service

The memorial service is the second to honor the life of George Floyd, following a memorial in Minneapolis. Floyd was born in Raeford, NC.  




USATODAY.com - Published





George Floyd live updates: North Carolina memorial; DC could see 'one of the largest' protests

A second memorial service for George Floyd is planned in North Carolina Saturday. D.C. could see one of its largest protests. Latest on Floyd's death.




USATODAY.com - Published