Cardi B
American rapper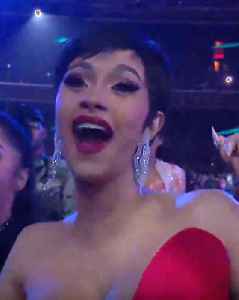 Belcalis Marlenis Almánzar, known professionally as Cardi B, is an American rapper, singer, and songwriter. Born and raised in The Bronx, New York City, she became an Internet celebrity after several of her posts and videos went viral on Vine and Instagram. From 2015 to 2017, she appeared as a regular cast member on the VH1 reality television series Love & Hip Hop: New York to follow her music aspirations, and released two mixtapes—Gangsta Bitch Music, Vol. 1 and Vol. 2.


4 words Cardi B invented
Rapper Cardi B has a lot to say. But these 4 words, she defined.
USATODAY.com - Published
'Please Me': Cardi B, Bruno Mars get steamy with new song
"Please Me" is the first release of 2019 for both Cardi B and Bruno Mars.
USATODAY.com - Published
Cardi B Slams Jussie Smollett
Towards the end of January, it was reported that Empire actor Jussie Smollett was reportedly the victim of a racist and homophobic attack. Now, it appears that Smollett arranged the whole attack to..
Credit: Wochit News Duration: 00:47Published
Rap scores a breakthrough at the Grammy awards
Childish Gambino's "This is America" makes history at the Grammy awards by winning both record and song of the year - a first for hip hop. The night also celebrated girl power with top prize Album of..
Credit: Reuters Studio Duration: 01:38Published
Grammys 2019 Red Carpet Best Looks
From Alicia Keys to Cardi B and Post Malone, here are some of the best looks you may have missed on the 2019 Grammy Awards red carpet.
Credit: Newsweek Duration: 01:22Published
Bold fashion on Grammy's red carpet
The stars of the music world spark on the red carpet ahead of the Grammys in Los Angeles. Rough cut (no reporter narration).
Credit: Reuters Studio Duration: 01:32Published
Cardi B Net Worth
Money-minded rapper Cardi B could be adding a few gold-plated statues to her net worth tonight.
Credit: Time Duration: 01:36Published
21 Savage Arrest: Jay-Z, Cardi B, Meek Miller And Others Voice Support For Rapper
Atlanta-based rapper 21 Savage, whose real name is Shéyaa Bin Abraham-Joseph, was arrested by ICE officials on claims of living in the US with an expired visa. Several celebrities and politicians have..
Credit: Newsweek Duration: 01:52Published
Cardi B Slams The IRS For Taking 45% Of Her Earnings In Deleted Video
Rapper Cardi B admits to having a hard time keeping her monthly expenses under six figures.
Credit: Newsweek Duration: 00:59Published
Cardi B to lead girl power charge at Grammy Awards
Outspoken rapper, whose music and personal life has dominated pop culture for the past two years, leads the charge on music's biggest night with a live performance and five nominations. Rough cut (no..
Credit: Reuters Studio Duration: 01:27Published
Kamala Harris Dancing To Cardi B Joins List Of Other Politicians Who've Gone Viral
This video of Sen. Kamala Harris dancing to Cardi B's 'I Like It' while preparing for a speech has gone viral. Harris's communications director Lily Adams shared the short clip on Twitter.
Credit: Newsweek Duration: 02:02Published
Barack Obama Shares His Favorites Of 2018
Former President Barack Obama is continuing his end-of-year tradition of sharing his favorite books, movies, and songs of the year. Obama shared his lists on social media, writing: "I'm continuing..
Credit: Wochit News Duration: 00:38Published
Cardi B returns to Instagram with a news 2 days after post-Grammy trolling made her to quit
Cardi B's retirement from Instagram lasted all of two days.
USATODAY.com - Published
Christian Cowan brings London club vibe to New York runway
Christian Cowan, a favorite of celebs like Lady Gaga and Cardi B, has presented a new collection that harked back to his days as a London club kid but also channeled New York-style energy. (Feb. 13)
USATODAY.com - Published
Search this site and the web:
You Might Like