White House Coronavirus Task Force
United States Department of State task force to mitigate COVID-19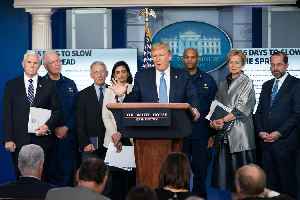 The White House Coronavirus Task Force is a United States Department of State task force that "coordinates and oversees the administration's efforts to monitor, prevent, contain, and mitigate the spread" of coronavirus disease 2019. Also referred to as the President's Coronavirus Task Force, it was established on January 29, 2020. On February 26, 2020, U.S. vice president Mike Pence was named to chair the task force, and Deborah Birx was named the response coordinator.


Former Pence aide says she's voting for Biden

A former White House aide who helped coordinate the Trump administration's response to the coronavirus pandemic sharply criticized President Donald Trump in a video released on Thursday and said she..
Credit: Reuters - Politics Duration: 02:05
Published
Dr. Birx denies 'herd immunity' policy idea

[NFA] White House Coronavirus Task Force Coordinator Dr. Deborah Birx on Wednesday dismissed the notion that the White House was considering a strategy of allowing Americans to become infected with..
Credit: Reuters - Politics Duration: 01:34
Published
'A war against COVID and stupidity': Houston doctor

Dr. Joseph Varon is frustrated. A surge in COVID-19 patients is straining his Houston, Texas hospital and yet, every day, he sees people on the street who are not wearing masks and not physically..
Credit: Reuters - Politics Duration: 03:06
Published
You Might Like



Former Pence adviser criticizes Trump administration's response to COVID-19

President Trump is at odds with the nation's top health officials over the timing of coronavirus vaccine. It comes as a former adviser Vice Pence Mike Pence who was on the Coronavirus Task Force..




CBS News - Published





Coronavirus Task Force warns Georgia to close bars and restaurants in hot zones

President Trump's Coronavirus Task Force strongly recommended a statewide mask mandate in Georgia, according to an August 9 report obtained by CBS News. But it's not clear if state officials will heed..




CBS News - Published





Trump claims coronavirus is "receding," despite surge in cases

A day after Coronavirus Task Force coordinator Dr. Deborah Birx said the coronavirus is now "extraordinarily widespread," President Trump contradicted her, claiming "evidence of progress." "Very..




CBS News - Published





Trump criticizes Dr. Birx after she issues dire coronavirus warning

President Trump lashed out at Coronavirus Task Force coordinator Dr. Deborah Birx after she said the U.S. had entered a dangerous new phase of the pandemic. Mr. Trump called her warning "pathetic."..




CBS News - Published





Eye Opener: Tropical Storm Isaias churns off Florida coast, heads north

Tropical Storm Isaias is churning off the east coast of Florida and is moving toward the Carolinas. Also, the White House Coronavirus Task Force coordinator warns that the U.S. is in a new phase of the..




CBS News - Published





'I am in a risk category': Fauci explains why he won't be getting on a plane right now amid COVID-19

The next time you get on a plane, there's one person you aren't likely to run into: White House Coronavirus Task Force member Dr. Anthony Fauci.




USATODAY.com - Published





Schools, US virus surge are focus of WH Task Force

Vice President Mike Pence says the CDC will be issuing new guidance for the reopening of schools in the fall. Dr. Deborah Birx is urging residents in the southern US who are in the midst of a surge to..




USATODAY.com - Published





Fauci, White House Task Force urge adults under 40 to act more responsibly to help slow spread of COVID-19

Task Force says rising number of cases in states like Florida, Texas and Arizona suggest that younger adults are not following public health guidance.




USATODAY.com - Published




Fauci taking 'precautions'; 2 other coronavirus task force members to self-quarantine

Dr. Anthony Fauci had less exposure to confirmed cases than other members of the Coronavirus Task Force who are self-quarantining.




USATODAY.com - Published




Does the Coronavirus Task Force Even Matter for Trump?

After saying he would phase out the group, the president now says he will keep it. But he has regularly ignored the information and guidance it has provided.




NYTimes.com - Published





On Politics: Dissolving the Coronavirus Task Force

Questions about the role of science in the federal response: This is your morning tip sheet.




NYTimes.com - Published





Coronavirus, White House Task Force, U.S. Senate: Your Wednesday Briefing

Here's what you need to know.




NYTimes.com - Published





Trump talks about winding down virus task force

President Donald Trump defended his administration's plans to wrap up the work of the White House Coronavirus Task Force, saying Friday while some Americans may be "affected badly," it's time for the..




USATODAY.com - Published





White House Coronavirus Task Force, sports leaders discuss how testing expansion could help sports resume

According to one person on the coronavirus call, Trump administration optimistic that infrastructure is in place to allow sports to resume in summer.




USATODAY.com - Published