Killing of Vanessa Guillén
Disappearance of a U.S. army soldier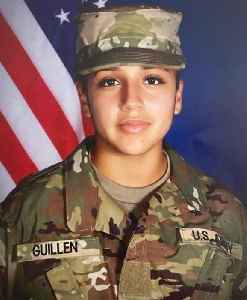 Vanessa Guillén was a 20-year-old U.S. Army soldier who authorities believe was killed on April 22, 2020, inside a Fort Hood, Texas, armory by another enlisted soldier, Aaron David Robinson, age 20. Guillén had been missing since April 22 until dismembered pieces of her remains were found buried along the Leon River on June 30. Upon hearing about the discovery of the remains, Robinson fled Fort Hood and fatally shot himself shortly after midnight when law enforcement attempted to apprehend him in Killeen, Texas.


Family Says Vanessa Guillen Bludgeoned To Death On Army Base

According to Vanessa Guillen's family attorney, Fort Hood Pfc. Vanessa Guillen was bludgeoned to death with a hammer in the armory room where she worked. CNN reports that attorney Natalie Khawam said..
Credit: Wochit News Duration: 00:35
Published
You Might Like
Vanessa Guillen: The timeline of what happened to the slain Fort Hood soldier
The U.S. Army Criminal Investigation Division was notified that Vanessa Guillen was missing on April 23.  
USATODAY.com - Published
Vanessa Guillén's murder a "tipping point," Army secretary says
Fort Hood has one of the highest rates of murder, sexual assault and harassment in the Army, Secretary Ryan McCarthy said.
CBS News - Published
Family of slain soldier marches to White House
Family, friends, and supports of a slain Texas soldier Vanessa Guillen held a march between the US Capitol and the White House to push for change on how the military handles sexual abuse and..
USATODAY.com - Published
Trump meets with family of slain TX solider at WH
President Donald Trump met with the family of slain soldier Vanessa Guillen at the White House on Thursday. (July 30)  
USATODAY.com - Published
Vanessa Guillen's murder sparks Army panel to investigate sexual harassment, bias at Fort Hood
The Army named a panel of five experts to investigate sexual harassment and discrimination at Fort Hood after Spc. Vanessa Guillen's brutal murder.
USATODAY.com - Published
Civilian searcher says Army overlooked evidence after Vanessa Guillen's death
Vanessa Guillen, 20, a soldier, disappeared from Fort Hood in Texas on April 22, sparking a search and international attention.
USATODAY.com - Published
'We all feel her loss': Remains found near Leon River identified as Vanessa Guillen
Vanessa Guillen had been missing since April.  
USATODAY.com - Published
Texas woman tied to slaying of Fort Hood soldier Vanessa Guillen appears in court
Authorities have accused Cecily Aguilar of helping Spc. Aaron David Robinson dispose of Vanessa Guillen's body after Robinson killed her.
USATODAY.com - Published
'An Empty Presence in My Chest': Vanessa Guillen's Family Calls for Change in the Military
Remains found in Texas were confirmed to belong to Specialist Vanessa Guillen, who went missing at Fort Hood more than two months ago. Her family said she had dreamed of being in the military since..
NYTimes.com - Published
Vanessa Guillen's sister: Fort Hood soldier questioned in disappearance laughed in my face
U.S. Army officials identified Spc. Aaron David Robinson as the soldier who killed himself after being questioned about missing Spc. Vanessa Guillen.  
USATODAY.com - Published
What We Know About Vanessa Guillen, the Missing Fort Hood Soldier
The Guillen family has desperately sought answers after she disappeared from the Texas base on April 22.
NYTimes.com - Published