Juan Guaidó
Venezuelan politician and engineer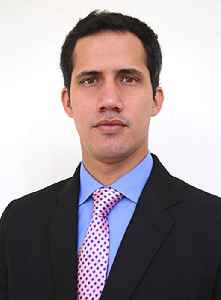 Juan Gerardo Guaidó Márquez is a Venezuelan politician, a member of the social-democratic Popular Will party, and serves as a federal deputy to the National Assembly representing the state of Vargas. In 2019 Guaidó was appointed by the Popular Will party to become the President of the National Assembly of Venezuela, after which he declared he was acting President of Venezuela, challenging Nicolás Maduro's presidency and starting the 2019 Venezuelan presidential crisis.


Venezuela's debts to China, Russia would be restructured through Paris Club: Guaido advisor
Loans to Venezuela from President Nicolas Maduro's allies Russia and China would be renegotiated though the Paris Club if Maduro leaves power, an advisor to the opposition said on Wednesday, responding..
Reuters - Published
Guaido security guards detained during break in Venezuela political talks
Two members of Venezuelan National Assembly chief Juan Guaido's security detail were detained on Friday, both the opposition leader and government officials said on Saturday, during a pause in..
Reuters - Published
Rival rallies held on Venezuela's independence day
President Maduro surrounds himself with supporters, as opposition leader Guaido slams 'dictatorship'.
Credit: Al Jazeera STUDIO Duration: 03:00Published
Venezuela crisis: Guaido's envoys accused of embezzling aid funds
Guard says US aircraft brought down in its airspace, but US official says drone was flying in international territory.
Credit: Al Jazeera STUDIO Duration: 02:31Published
Venezuelan opposition leader Juan Guaidó claims mediation efforts to end the crisis have stalled
Thousands of Venezuelans cross reopened Columbian border as international mediation makes little progress
Credit: euronews (in English) Duration: 01:15Published
Search this site and the web:
You Might Like