Amazon HQ2
Amazon.com's future second headquarters in North America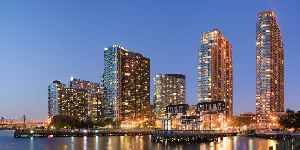 Amazon HQ2 is a planned new corporate headquarters in Crystal City, Arlington, Virginia, for online retailer and tech company Amazon. The location is intended to complement the company's existing headquarters in Seattle, Washington.


Amazon posted its first jobs for HQ2 in northern Virginia
Amazon posted the first jobs for its second headquarters, or HQ2, in northern Virginia, with a plan to create 400 openings in 2019.
USATODAY.com - Published
Amazon lessons for voters, taxpayers, New York and the 237 other places that bid for HQ2
Did Amazon stop needing New York, or did New York drive it away? As cities across America compete for jobs, the messy breakup is a cautionary tale.
USATODAY.com - Published
Trump Blames AOC For Keeping Amazon Out Of New York
US President Donald Trump blamed Rep. Alexandria Ocasio-Cortez over Amazon's canceled HQ2 in New York City. During the Made in America showcase on Monday he said, "She kept them out." Ocasio-Cortez was..
Credit: Wochit News Duration: 00:32Published
Amazon HQ2: Cities are trying to woo tech giant after cancellation of New York plans
Amazon said it does 'not intend to reopen the HQ2 search at this time.' Some cities are still trying to impress.
USATODAY.com - Published
Eye Opener at 8: Amazon abandons HQ2 in New York
A look back at what we've been covering on "CBS This Morning." Subscribe to get the Eye Opener delivered straight to your inbox.
CBS News - Published
Could Amazon still pick another HQ2 site after ditching New York?
Amazon's decision to pull out of plans for a new headquarters in Long Island City, Queens reignites hope among cities that lost out on the project.
USATODAY.com - Published
Here are the 20 places Amazon went looking for an HQ2
USATODAY.com - Published
Amazon cancels HQ2 in NYC, could Newark get more Amazon jobs?
Amazon on Thursday said it would be canceling its plans to build a corporate campus in New York City. What does that mean for places like Newark?
USATODAY.com - Published
Losing Amazon HQ2 would be bad for NYC
Do New York City and Democrats really want to be branded as anti-business and pro-high taxes? Don't chase away 25,000 jobs: Our view
USATODAY.com - Published
You Might Like