Joe Exotic
American zookeeper and convict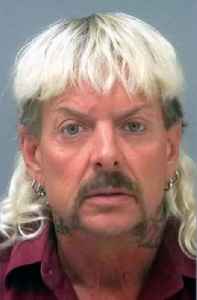 Joseph Allen Maldonado-Passage, better known by his stage name Joe Exotic, is an American former zoo operator and convicted felon. The former owner and operator of the Greater Wynnewood Exotic Animal Park in Wynnewood, Oklahoma, Maldonado-Passage had claimed to be the most prolific breeder of tigers in the United States. Before working with animals he was a police officer—briefly serving as the chief of police in Eastvale, Texas. Maldonado-Passage has had three unsuccessful runs for public office, first for President of the United States in 2016 as an independent, and then for Governor of Oklahoma in 2018 as a Libertarian. In 2017 before officially entering the race for Governor he filed as a candidate seeking the Libertarian nomination for President.


Carole Baskin Awarded Zoo Once Owned by Joe Exotic

Baskin's feud with Joe Exotic was chronicled on the hit Netflix show, 'Tiger King'.
Credit: Cover Video STUDIO Duration: 01:20
Published
Carole Baskin Wins Joe Exotics Zoo

CNN reports that Carole Baskin has been awarded the zoo once owned by her nemesis, Joe Exotic. A judge ruled in favor of Baskin's Big Cat Rescue Corporation Monday in a lawsuit against the Greater..
Credit: Wochit News Duration: 00:39
Published
You Might Like
Tax commission asks judge to shutter 'Tiger King' star Joe Exotic's former zoo
The Oklahoma Tax Commission told a judge the Greater Wynnewood Exotic Animal Park and owner Jeff Lowe owe the state $50,274 in taxes.
USATODAY.com - Published
ShowBiz Minute: Black Out Tuesday, Jay-Z, 'Tiger King'
Celebrities take part in Black Out Tuesday on social media; Jay-Z takes out full-page ads in newspapers across the U.S. in honor of George Floyd; Judge gives control of Joe Exotic's zoo to Carole..
USATODAY.com - Published
Judge Gives Carole Baskin the Tiger King's Zoo
The legal battle between Ms. Baskin, an animal-rights activist, and Joseph Maldonado-Passage, a former roadside zoo owner, played out for more than seven years and on a Netflix special.
NYTimes.com - Published
Carole Baskin awarded zoo of 'Tiger King' Joe Exotic, man who allegedly tried to have her killed
Carole Baskin has some news for the "cool cats and kittens." Big Cat Rescue Corp. has been awarded Joe Exotic's zoo, depicted in "Tiger King."
USATODAY.com - Published
Nicolas Cage will play Joe Exotic in another planned scripted series about the 'Tiger King'
Nicolas Cage is getting his paws on a very juicy role. He will portray former zoo owner Joe Exotic, the subject of the recent docu-series "Tiger King."
USATODAY.com - Published
'The Last Dance' beats 'Tiger King' as world's most in-demand documentary
Michael Jordan and the '97-98 Chicago Bulls have dethroned Joe Exotic and the "Tiger King" gang as the fastest-growing and most popular documentary.
USATODAY.com - Published
'Tiger King': Sarah Hyland, Wells Adams play dress up, channel Joe Exotic and Carole Baskin
Sarah Hyland seems to have some time on her hands after wrapping up "Modern Family." She and Wells Adams dressed up as Joe Exotic and Carole Baskin.
USATODAY.com - Published
Here's what happened to 'Tiger King' animals after doc
Joe Exotic had hundreds of tigers in the Netflix 'Tiger King' documentary. The Wild Animal Sanctuary saved 39 of them.
USATODAY.com - Published
What Happened After 'Tiger King'
The former zookeeper known as Joe Exotic filed a lawsuit. Carole Baskin, who runs Big Cat Rescue, condemned how the series handled her husband's disappearance. And a Florida sheriff asked for tips.
NYTimes.com - Published
After 'Tiger King' cameo, Shaquille O'Neal says he is not friends with 'Joe Exotic'
Former NBA star Shaquille O'Neal, who made an appearance in the Netflix doc "Tiger King," disavowed "Joe Exotic" and the poor treatment of tigers.
USATODAY.com - Published