Camp Fire (2018)
2018 wildfire in Butte County, California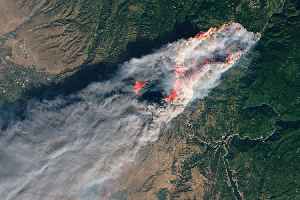 The Camp Fire was the deadliest and most destructive wildfire in California history to date. It is also the deadliest wildfire in the United States since the Cloquet fire in 1918, and is high on the list of the world's deadliest wildfires; it is the sixth-deadliest U.S. wildfire overall. Named after Camp Creek Road, its place of origin, the fire started on November 8, 2018, in Butte County, in Northern California. After exhibiting extreme fire behavior through the community of Concow, an urban firestorm formed in the densely populated foothill town of Paradise. The fire caused at least 85 civilian fatalities, with 3 persons still missing, and injured 12 civilians, two prison inmate firefighters, and three other firefighters. It covered an area of 153,336 acres (62,053 ha), and destroyed 18,804 structures, with most of the damage occurring within the first four hours. Total damage was $16.5 billion; one-quarter of the damage, $4 billion, was not insured. The fire reached 100 percent containment after seventeen days on November 25, 2018.


California Today: California Today: What to Know About Pacific Gas & Electric's Role in the Camp Fire
Thursday: Get caught up on the embattled utility's bankruptcy. Also: President Trump's immigration overhaul; and the resurrection of "Deadwood."
NYTimes.com - Published
Six months after California's Camp Fire, water is contaminated and unusable
While we now know power lines started the deadliest wildfire in California history, a different type of threat is affecting plans to rebuild: contaminated water that tested positive for elevated levels..
CBS News - Published
PG&E lines caused California's deadliest wildfire: officials
State fire investigators have formally determined that Pacific Gas & Electric Co transmission lines caused the deadliest and most destructive wildfire on record in California, a blaze that killed 85..
Credit: Reuters Studio Duration: 01:35Published
California Says PG&E Power Lines Caused Camp Fire That Killed 85
State officials concluded that Pacific Gas & Electric lines caused the Camp Fire, which destroyed the town of Paradise and is the deadliest in state history.
NYTimes.com - Published
PG&E transmission lines caused deadly Camp Fire in California, investigators say
The Camp Fire last November was the the deadliest and most destructive fire in California history.
USATODAY.com - Published
The lasting damage of the worst wildfire in California's history
Six months have passed since the "Camp Fire" gutted the town of Paradise, California. The fire killed 85 people, destroyed 19,000 buildings and caused more than $12 billion in damage. Jonathan..
CBS News - Published
Search this site and the web:
You Might Like