Camp Fire (2018)
2018 wildfire in Butte County, California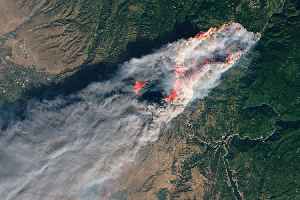 The Camp Fire was the deadliest and most destructive wildfire in California history. It is also the deadliest wildfire in the United States since the Cloquet fire in 1918 and is high on the list of the world's deadliest wildfires; it is the sixth-deadliest U.S. wildfire overall. It was one of the world's costliest natural disasters in 2018. Named after Camp Creek Road, its place of origin, the fire started on November 8, 2018, in Butte County, in Northern California. After exhibiting extreme fire spread, fireline intensity, and spotting behaviors through the wilderness community of Concow, an urban firestorm formed in the densely populated foothill town of Paradise. The fire caused at least 85 civilian fatalities, with two people still missing, and injured 12 civilians, two prison inmate firefighters, and three other firefighters. It covered an area of 153,336 acres (62,053 ha), and destroyed 18,804 structures, with most of the damage occurring within the first four hours. Total damage was $16.5 billion; one-quarter of the damage, $4 billion, was not insured. The fire reached 100 percent containment after seventeen days on November 25, 2018.


Northern California town of Paradise lost 90% of its population after Camp Fire, data shows
The town of Paradise has lost over 90% of its population since the Camp Fire last year, according to data California released Thursday.
USATODAY.com - Published
Search this site and the web:
You Might Like