InfoWars
American far-right conspiracy theory and fake news website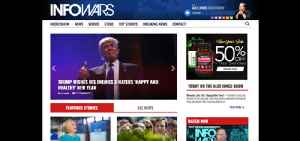 InfoWars is a far-right American conspiracy theory and fake news website owned by Alex Jones. It was founded in 1999, and operates under Free Speech Systems LLC.


Alex Jones sanctioned by court after child porn dispute
A court filing claims the Infowars founder may have committed "a serious federal crime," but it's unclear if he knew about the images
CBS News - Published
InfoWars to part with Pepe the Frog — now an alt-right 'hate symbol' — in $15,000 suit
Cartoonist Matt Furie, who invented Pepe, wants to take his meme back from the alt-right. This lawsuit against InfoWars is his first victory.
USATODAY.com - Published
Infowars Agrees to Part Ways With Pepe the Frog
Matt Furie, the creator of Pepe, sued to stop its use by the far-right website. Infowars agreed on Monday, paying a $15,000 settlement.
NYTimes.com - Published
Alex Jones appears on Logan Paul's podcast
It may seem like an unlikely pairing, but InfoWars' Alex Jones and YouTuber Logan Paul have a lot in common
CBS News - Published
Alex Jones blames 'form of psychosis' for Sandy Hook 'hoax' claims
Infowars host and conspiracy theorist Alex Jones says a "form of psychosis" caused him to believe that the Sandy Hook massacre was staged. Nathan Rousseau Smith has the story.
USATODAY.com - Published
How Alex Jones and Infowars Helped a Florida Man Stalk Sandy Hook Families
Mr. Jones and Infowars gave Wolfgang Halbig airtime, a camera crew and help raising money to harass Sandy Hook shooting victims' parents.
NYTimes.com - Published
Alex Jones Lists His Sources for Sandy Hook Conspiracy Theories
In a video deposition, the conspiracy theorist and Infowars host Alex Jones was questioned about the sources for his false claims that the Sandy Hook school shooting was a hoax.
NYTimes.com - Published
Alex Jones ordered to be deposed in Sandy Hook defamation case
A Connecticut judge ruled that Infowars owner Alex Jones appear for a deposition in a defamation case brought by the victims' families in the Sandy Hook Elementary shooting. Veuer's Justin Kircher has..
USATODAY.com - Published
You Might Like