Jonathan LaPook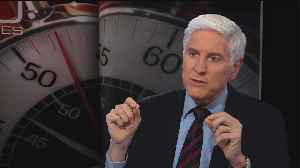 Jonathan David LaPook is the Chief Medical Correspondent for CBS News and is a board-certified physician in internal medicine and gastroenterology. Named the Mebane Professor of Gastroenterology in 2013, he is Professor of Medicine at NYU Langone Medical Center and has an active medical practice in New York City. He joined CBS News in 2006.


Judge keeps unvaccinated students from New York school
A federal judge in New York has jumped into the simmering debate over measles vaccinations. With cases rising, he barred 50 unvaccinated students from attending a private school for at least three..
CBS News - Published
Veterans suing 3M, claiming defective combat earplugs: "All I hear is ringing"
Hundreds of military veterans are suing 3M, claiming the company knowingly sold defective earplugs. The complaints come after the Department of Justice settled a lawsuit with the company in July. Dr...
CBS News - Published
Patients respond to gene therapy treatment for sickle cell anemia
"60 Minutes" followed several patients as they underwent a groundbreaking gene therapy treatment aimed at curing sickle cell anemia. CBS News chief medical correspondent Dr. Jon LaPook and patient..
CBS News - Published
Sickle cell anemia patients react to breakthrough treatment
A cutting-edge clinical trial made a breakthrough in its effort to cure sickle cell anemia. The painful genetic disease affects about 100,000 Americans every year, mostly African Americans. On "60..
CBS News - Published
Three years later: What we've learned to prevent another Zika outbreak
Three years ago, the Zika virus caused widespread uncertainty and fear, and the hundreds of children born with the associated birth defects are permanently disabled. CBS News chief medical..
CBS News - Published
The risk of contracting Zika is still out there. Here's what you need to know.
Though the Zika virus is no longer the threat it was during the height of the outbreak in 2015-2016, the risk of contracting the disease still exists in certain areas. CBS News chief medical..
CBS News - Published
Could gene therapy cure sickle cell anemia?
An NIH clinical trial is ushering in a genetic revolution as an innovative type of gene therapy is used to attempt to cure sickle cell anemia. Dr. Jon LaPook reports.
CBS News - Published
You Might Like