Tropical Storm Imelda
A short lived tropical storm in the Atlantic in 2019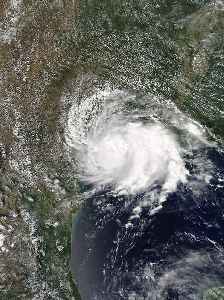 Tropical Storm Imelda was the fifth-wettest tropical cyclone on record in the continental United States, causing devastating and record-breaking floods in southeast Texas. The eleventh tropical cyclone and ninth named storm of the 2019 Atlantic hurricane season, Imelda formed out of an upper-level low that developed in the Gulf of Mexico and moved westward. Little development occurred until the system was near the Texas coastline, where it rapidly developed into a tropical storm before moving ashore shortly afterward. Imelda weakened after landfall, but continued bringing large amounts of flooding rain to Texas and Louisiana, before dissipating on September 21.


Catastrophic Texas floods leave at least 5 dead
The death toll continues to rise after floodwaters swept through southeast Texas – remnants of Tropical Storm Imelda. The storm dumped more than 40 inches of rain in areas still recovering from the..
CBS News - Published
5 deaths now linked to flooding in Texas after Tropical Storm Imelda
Tropical Depression Imelda brought deadly flooding to Texas. Now, authorities say five deaths are linked to the storm
USATODAY.com - Published
5th linked to Tropical Storm Imelda's aftermath
The storm caused widespread flooding in southeastern Texas and parts of Louisiana.
CBS News - Published
"Mattress Mack" helps flood victims after Tropical Storm Imelda hits Texas
A popular Houston furniture store owner nicknamed "Mattress Mack" is letting flood victims stay in his warehouse – for free. This is not the first time he's opened his doors to people in need.
CBS News - Published
Texas residents rescued from flooded homes
The Sheriff's Office said home rescues happened in far northeast Harris County as floodwaters from Tropical Storm Imelda receded. (Sept. 20)  
USATODAY.com - Published
Imelda leaves 2 dead in Texas, others stranded
At least two people are known dead as the remnants of Tropical Storm Imelda bring massive floods into the Houston area and East Texas. Others were still being rescued on Thursday night. (Sept. 20)  
USATODAY.com - Published
You Might Like