Rocketman (film)
2019 biographical musical drama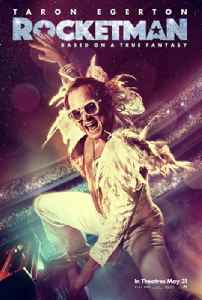 Rocketman is a 2019 biographical musical film based on the life of musician Elton John. Directed by Dexter Fletcher and written by Lee Hall, it stars Taron Egerton as John, with Jamie Bell, Richard Madden, and Bryce Dallas Howard. The film follows John's early days as a prodigy at the Royal Academy of Music up to his eventual musical partnership with Bernie Taupin. The film is titled after John's 1972 song "Rocket Man".


Fashion Watch: 'Rocketman' lands in Cannes
Elton John brought sparkle to his tuxedo at Cannes 2019 but it was Deepika Padukone who turned up the style volume to 11. Priyanka Chopra eluded Hollywood glamour and Bella Hadid brought ruffles to the..
USATODAY.com - Published
ShowBiz Minute: Cardi B, Elton John, 'Big Bang Theory'
Cardi B is most nominated act at 2019 BET Awards; Elton John lands "Rocketman" in Cannes; "The Big Bang Theory" closes with emotional final episode. (May 17)
USATODAY.com - Published
Elton John's 'Rocketman' touches down in Cannes
The star power of Elton John brought the crowds to the Croisette on Thursday as "Rocketman" -- the film charting his first steps towards stardom -- opened at the Cannes Film Festival. Rough cut (no..
Credit: Reuters Studio Duration: 00:47Published
Elton John and 'Rocketman' touch down in Cannes
Elton John and his biopic "Rocketman" landed at the Cannes Film Festival, where the 72-year-old came dressed in a tuxedo with "Rocket Man" emblazoned on the back. The film stars Taron Egerton as the..
USATODAY.com - Published
'Rocketman' Taron Egerton says he's 'at peace' as Elton John film lifts off at Cannes
Taron Egerton prepares to show off his moves as Elton John in 'Rocketman,' which premieres Thursday at Cannes Film Festival in France.
USATODAY.com - Published
Search this site and the web:
You Might Like