QAnon
American far-right conspiracy theory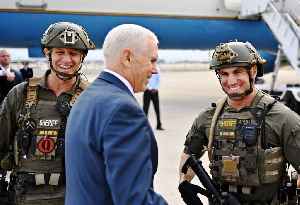 QAnon is a far-right conspiracy theory alleging that a cabal of Satan-worshiping pedophiles running a global child sex-trafficking ring is plotting against President Donald Trump, who is battling them, leading to a "day of reckoning" involving the mass arrest of journalists and politicians. No part of the theory is based on fact.


'Developer And Mouthpiece' For QMap Is A Dude From New Jersey With A Day Job

QAnon supporters are far-right extremists who believe President Donald Trump is battling a covert, widespread cabal of Satan-worshipping pedophiles. The conspiracy theory later blew up on Facebook and..
Credit: Wochit News Duration: 00:47
Published
Trump declines to reject Qanon theory

Asked if he agrees with Georgia Republican Marjorie Taylor Greene's support of the unfounded Qanon conspiracy theory, U.S. President Donald Trump on Friday said "I did congratulate her" following her..
Credit: Reuters Studio Duration: 00:33
Published
You Might Like



9/23/20: Red and Blue

Paying respect to Justice Ruth Bader Ginsburg; The appeal of the QAnon conspiracy theories




CBS News - Published





Why are so many women falling for the QAnon conspiracy theory?

Annie Kelly, a researcher of anti-feminist and far-right digital culture, joined "Red and Blue" to discuss her recent op-ed in The New York Times about why so many women are falling for the QAnon..




CBS News - Published





"60 in 6" gets inside look at QAnon, speaks with a leader in the movement

"60 in 6" corespondent Laurie Segall reports on followers of a fast-growing conspiracy called QAnon — a movement that could possibly influence voters in the upcoming election.




CBS News - Published





Evangelical leaders try to take on QAnon in their community

Some evangelical leaders are trying to fight back against online conspiracies gaining popularity in their ranks. Sarah Poster, a reporting fellow at Type Investigations and the author of "Unholy: Why..




CBS News - Published





Amazon, Walmart donate to QAnon-supporting politician

State Representative Susan Lynn has posted on social media using QAnon phrases, but denies association with the movement.




CBS News - Published





Facebook Tried to Limit QAnon. It Failed.

The social network tried cracking down on the spread of the conspiracy theory and other extremist material. But QAnon groups are still flourishing on the site.




NYTimes.com - Published





Trump, QAnon, Russia: Facebook, Twitter, YouTube brace for a turbulent election and post-election cycle

It's election crunch time for Facebook and Twitter whose platforms were used to amplify falsehoods, conspiracy theories and divisive messages in 2016.




USATODAY.com - Published





Debunked QAnon conspiracy theories are seeping into mainstream social media. Don't be fooled.

Conspiracy theories connected to QAnon, which experts have called a "digital cult" due to its religious qualities, are spreading. Don't be fooled.




USATODAY.com - Published





The impact of wild conspiracy theories ahead of 2020 election

As the November election draws closer, dangerous conspiracy theories like QAnon are spreading on social media and taking root in the minds of a growing number of voters. TIME national correspondent..




CBS News - Published





Pence cancels a plan to attend a fund-raiser hosted by QAnon supporters.




NYTimes.com - Published





Congressional candidate drops out of race against QAnon booster

The state's Democratic party is now waiting on the Georgia's Secretary of State office to rule on whether they can remove Kevin Van Ausdal's name from the ballots and replace it with another Democrat.




CBS News - Published





Trump makes it complicated for GOP looking to stay away from QAnon

"I've heard these are people that love our country… so I don't know really anything about it, other than they do supposedly like me," Mr. Trump said.




CBS News - Published




Evangelicals need to address the QAnon'ers in our midst

QAnon has been making headlines but Evangelical Christians should not be swept up in the bizarre movement.




USATODAY.com - Published





How QAnon and other dark forces are radicalizing Americans as the COVID-19 pandemic rages and election looms

The spread of conspiracy theories into the mainstream on social media channels like Facebook and YouTube is accelerating during the coronavirus.




USATODAY.com - Published





Understanding the differences between misinformation and disinformation, and how QAnon is spreading both online

QAnon, a baseless pro-Trump conspiracy theory is spreading both misinformation and disinformation online about the coronavirus pandemic and a number of other topics. CNET senior producer Dan Patterson..




CBS News - Published





How social media companies have amplified QAnon despite pledges to crack down

Amid growing concern about the dangers of QAnon, a pro-Trump conspiracy theory that's been linked to real-world threats, social media companies' responses are coming under scrutiny. CNET senior..




CBS News - Published





QAnon-supporting congressional candidate said she was invited to White House for final day of RNC

Marjorie Taylor Greene, a QAnon-supporting congressional candidate, tweeted Tuesday she has been invited to the White House for President Trump's acceptance speech on the final day of the Republican..




CBS News - Published





RNC speaker pulled from lineup after boosting QAnon-tied conspiracy about Jewish people

Shortly before the second night of programming began, Mary Ann Mendoza was pulled from the RNC lineup after earlier in the day retweeting an anti-Semitic Twitter thread with ties to the QAnon..




USATODAY.com - Published





How the baseless QAnon conspiracy theory is making its way into American politics

Members of the Trump administration are giving indirect, and sometimes mixed, answers on the president's position on QAnon, a baseless conspiracy theory the FBI has called a potential domestic terror..




CBS News - Published





Texas Republicans Say New Slogan Was Inspired by Poem, Not QAnon

Party officials in Texas said that the internet-driven conspiracy theory had nothing to do with its use of the slogan "We Are the Storm" — one of the chief rallying cries for QAnon adherents.




NYTimes.com - Published





Vice President Mike Pence on Steve Bannon's arrest, QAnon and mail-in voting

Vice President Mike Pence joins "CBS This Morning" to discuss the arrest of Steve Bannon and the conspiracy theory QAnon. Plus, his claims of widespread fraud in mail-in voting.




CBS News - Published





Trump and Republicans are following the Goldwater model with QAnon. That didn't end well.

Qanon may help brand Trump and Republicans as extremists, just like the John Birch Society did to Barry Goldwater. The result was a landslide 1964 loss.




USATODAY.com - Published





The Republican embrace of QAnon goes far beyond Trump.




NYTimes.com - Published





President Trump not shying from support of QAnon conspiracy theorists

President Trump said Wednesday about QAnon conspiracy theorists, "I've heard these are people that love our country." The FBI has warned theories like QAnon pose a growing threat of domestic..




CBS News - Published





Why Trump's refusal to refute QAnon conspiracy theorists matters

Trump said he's "heard" the online conspiracy theorists "are people that love our country." The FBI says theories like QAnon are a growing threat of domestic terrorism.




CBS News - Published





Trump Says QAnon Followers Are People Who 'Love Our Country'

When asked, the president did not question the truth behind the claims of the QAnon conspiracy movement. Instead, he offered his help.




NYTimes.com - Published

Also reported by •CBS News


Trump says QAnon conspiracy theorists 'like me very much' and 'love our country'

Trump claimed he didn't know much about the conspiracy theory QAnon but said he heard they "like me very much."




USATODAY.com - Published





Trump speaks positively about conspiracy theorists who believe in QAnon.




NYTimes.com - Published





QAnon conspiracy theory gains foothold in right-wing politics

The far-right conspiracy known as QAnon has gained traction on social media, and broke into the mainstream when Marjorie Taylor Greene, a known QAnon supporter won a Republican congressional primary..




CBS News - Published





Trump refrains from disavowing QAnon conspiracy.




NYTimes.com - Published





Trump dodges QAnon conspiracy theory question

President Donald Trump dodged questions Friday about his thoughts on QAnon during a White House briefing. Trump was asked about his support for Marjorie Taylor Greene, who has embraced the baseless,..




USATODAY.com - Published





What is QAnon and where did it come from? What to know about the far-right conspiracy theory

Twitter has cracked down on thousands of QAnon accounts. Here's a look at where the baseless conspiracy theory comes from and its ties to Trump.  




USATODAY.com - Published




The Rise of QAnon

And what else you need to know today.




NYTimes.com - Published





Republican lawmaker slams far-right conspiracy theory QAnon. Trump's team fires back.

Rep. Adam Kinzinger condemned QAnon, saying it has "no place in Congress" on the heels of several GOP candidates who espouse the theory winning primaries.




USATODAY.com - Published





QAnon supporter Greene wins primary in Georgia

Congressional candidate Marjorie Taylor Greene wins a Republican primary in Georgia. Greene is a supporter of the far-right QAnon conspiracy theory who's been criticized for racist comments. (Aug...




USATODAY.com - Published





A QAnon supporter is (almost definitely) heading to Congress.




NYTimes.com - Published





QAnon Followers Are Hijacking the #SaveTheChildren Movement

Fans of the pro-Trump conspiracy theory are clogging anti-trafficking hotlines, infiltrating Facebook groups and raising false fears about child exploitation.




NYTimes.com - Published





QAnon backer wins congressional primary in Georgia

The northwest Georgia district is a Republican-stronghold, meaning she will be the likely winner in November.




CBS News - Published





Marjorie Taylor Greene, a QAnon Supporter, Wins House Primary in Georgia

Ms. Greene's victory came as six states were holding elections on Tuesday, with Ilhan Omar facing a well-funded primary challenge in Minnesota.




NYTimes.com - Published





Tuesday's primaries: Ilhan Omar fights for political survival and QAnon believer hopes to join the House

The two biggest races to watch: Rep. Ilhan Omar's battle for reelection and QAnon conspiracy believer Marjorie Taylor Greene's quest to join Congress.




USATODAY.com - Published





What to Watch in Tuesday's Primaries: Ilhan Omar and Georgia's QAnon Candidate

Representative Omar faces a tough re-election fight in Minnesota, a Republican QAnon supporter is vying for the House in Georgia and several states face fresh tests of their elections systems.




NYTimes.com - Published





Biden vs. Trump: Live 2020 Election Updates

President Trump tweaked his message on the virus as he continued to slip in polls. Twitter cracked down on the conspiracy theory QAnon.




NYTimes.com - Published





Twitter removes, bans and suspends thousands of accounts associated with QAnon conspiracy theory group

Twitter says it has begun banning and suspending accounts associated with QAnon and limiting exposure of the conspiracy group's content.




USATODAY.com - Published





The QAnon Candidates Are Coming. Are Republicans Ready?

The conspiracy theorists accuse Democrats and even fellow Republicans of being beholden to a cabal of bureaucrats, pedophiles and Satanists. President Trump has cheered them on.




NYTimes.com - Published





'PizzaGate' Conspiracy Theory Thrives Anew in the TikTok Era

The false theory targeting Democrats, now fueled by QAnon and teenagers on TikTok, is entangling new targets like Justin Bieber.




NYTimes.com - Published





G.O.P. Voters Back QAnon Conspiracy Promoter for U.S. Senate

Jo Rae Perkins won her primary campaign in Oregon as the QAnon conspiracy theory has continued to gain momentum in Republican circles.




NYTimes.com - Published





Enough with the QAnon and 'Liberate' tweets, Mr. Trump. Coronavirus is lethal enough.

The deluded QAnon cult chugs on as an implicit threat on Donald Trump's behalf. And the president has rewarded its fealty with at least 131 retweets.




USATODAY.com - Published





Fact check: Conspiracy theorists claim Nancy Pelosi visited Wuhan in November. She did not

A conspiracy theory in QAnon circles holds that Nancy Pelosi was in Wuhan as COVID-19 outbreak began. Posts use a photo from 2015. The claim is false.




USATODAY.com - Published