Alphabet Inc.
American multinational conglomerate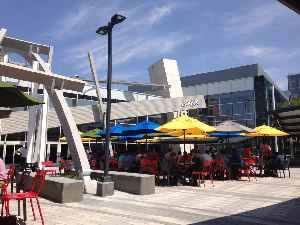 Alphabet Inc. is an American multinational conglomerate headquartered in Mountain View, California. It was created through a restructuring of Google on October 2, 2015, and became the parent company of Google and several former Google subsidiaries. The two founders of Google assumed executive roles in the new company, with Larry Page serving as CEO and Sergey Brin as president. Alphabet is the world's fourth-largest technology company by revenue and one of the world's most valuable companies.


Google Maps to help social distancing on public transit

Google is adding features on its Maps service to alert users about COVID-19-related travel restrictions to help them plan their trips better, the Alphabet Inc unit said on Monday. Conway G. Gittens..
Credit: Reuters Studio Duration: 00:53
Published
You Might Like



U.S. states lean toward breaking up Google's ad tech business: CNBC

The U.S. state attorneys general investigating Alphabet Inc's Google for potential antitrust violations are leaning towards pushing for a breakup of its ad technology business as part of an expected..




Reuters - Published





Google postpones Android 11 unveiling amid U.S. protests

Alphabet Inc's Google on Saturday said it has postponed next week's planned unveiling of the beta version of its latest Android 11 mobile operating system in light of protests and unrest in the United..




Reuters - Published





U.S. state of Arizona files consumer fraud lawsuit against Google

Arizona on Wednesday filed a consumer fraud lawsuit against Alphabet Inc's Google alleging that the company used "deceptive" and "unfair" practices to obtain the location data of users.




Reuters - Published





San Francisco area roads busier, still far below normal as stay home orders remain

More people have been venturing out for work and play in recent weeks in the San Francisco Bay Area, according to traffic data, even as some of the strictest stay-at-home orders in the country remain..




Reuters - Published





Alphabet's Loon and S.Africa's Vodacom to expand rural internet in Mozambique

Loon, a unit of Google's owner Alphabet Inc , which uses high-altitude balloons to provide mobile internet to remote areas, has signed a deal with Vodacom to expand the South African mobile operator's..




Reuters - Published





Most Americans cannot or will not use COVID-19 contact tracing apps: poll

More than half of all Americans either do not own smartphones or would not use apps backed by Alphabet Inc's Google and Apple Inc to trace who has been exposed to the new coronavirus, according to a..




Reuters - Published





YouTube expands fact-check feature to U.S. video searches during COVID-19 pandemic

YouTube, the video service of Alphabet Inc's Google, said on Tuesday it would start showing text and links from third-party fact checkers to U.S. viewers, part of efforts to curb misinformation on the..




Reuters - Published





Coronavirus screening pilot website launches for some California counties

Verily, a unit of Google parent company Alphabet, created a coronavirus testing pilot website in collaboration with federal, state and local officials.




USATODAY.com - Published





Google employee who was at Zurich office tests positive for coronavirus

An employee of Alphabet Inc's Google, who had been in the Zurich office, has tested positive for coronavirus, the company said on Friday.




Reuters - Published





Google to invest over $10 billion in 2020 on U.S. data centers, offices

Alphabet Inc's Google said on Wednesday it would invest more than $10 billion in offices and data centers across the United States this year.




Reuters - Published





New Mexico AG sues Google for collecting school kids' personal data

New Mexico Attorney General Hector Balderas on Thursday sued Alphabet Inc's Google search engine, alleging that its educational software collects young students' personal information without the..




Reuters - Published




YouTube reinforces guidelines on fighting misleading election content

Alphabet Inc's YouTube on Monday reinforced its guidelines on tackling fake or misleading election-related content on its platform as the United States gears up for the presidential election later this..




Reuters - Published





Self-driving big-rig trucks coming soon? Waymo set to begin mapping interstates in Texas, New Mexico

Waymo, the self-driving vehicle division of Google parent Alphabet, is about to start mapping in Texas and New Mexico for self-driving big rigs.




USATODAY.com - Published




Alphabet, Google's parent company, just topped $1 trillion in market value, joining other tech giants

Alphabet just joined the trillionaire club. The tech giant is the fourth U.S. company to hit the milestone after Apple, Microsoft and Amazon.




USATODAY.com - Published





Larry Page steps down as CEO of Google parent Alphabet; Sundar Pichai will be CEO of both companies

Google co-founders Larry Page and Sergey Brin will continue as co-founders, shareholders and members of Alphabet's board of directors, the company said.




USATODAY.com - Published





Senate Democrats unveil privacy bill with fines for privacy violations

Democratic senators proposed legislation on Tuesday that would set penalties for online companies like Alphabet Inc's Google and Facebook Inc if they mishandle users' personal data.




Reuters - Published




Factbox: How social media services handle political ads

Online platforms including Facebook and Alphabet Inc's Google face growing pressure to stop carrying political ads that contain false or misleading claims ahead of the U.S. presidential election.




Reuters - Published





Google to let sites block personalized ads under California privacy law

Websites and apps using Google's advertising tools will be able to block personalized ads to internet users in California and elsewhere as part of the Alphabet Inc unit's effort to help them comply..




Reuters - Published





Regulators begin probe into Google-Ascension cloud computing deal: WSJ

A U.S. federal regulator has initiated an investigation into a cloud computing deal between Alphabet Inc's Google and Ascension Health which would give Google access to detailed health information of..




Reuters - Published





Google pulls Hong Kong protester role-playing app

Alphabet Inc's Google has suspended a role-playing app associated with the Hong Kong protests due to a policy that prohibits developers capitalizing on ongoing conflicts, the company said on Thursday.




Reuters - Published





Apple says Uighurs targeted in iPhone attack but disputes Google findings

Apple Inc on Friday confirmed that China's Uighurs, a mostly Muslim minority group considered a security threat by Beijing, had been the target of attacks due to iPhone security flaws, but disputed..




Reuters - Published




YouTube finds influence campaign tied to Hong Kong protests

Alphabet Inc's Google announced on Thursday that its YouTube streaming video service disabled 210 channels appearing to engage in a coordinated influence operation around the Hong Kong protests, days..




Reuters - Published





Google, Apple, Mozilla move to block Kazakh surveillance system

Alphabet Inc's Google, Apple Inc and Firefox browser maker Mozilla took steps on Wednesday to block the Kazakh government from creating an internet surveillance system using their browsers.




Reuters - Published




Trump calls for inquiry into Google's work with China

U.S. President Donald Trump said on Tuesday his administration would investigate whether Alphabet Inc's Google supports the Chinese government, following accusations that a company official refuted..




Reuters - Published