Alphabet Inc.
American holding company and conglomerate created by Google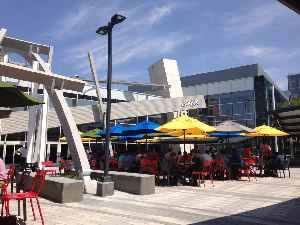 Alphabet Inc. is an American multinational conglomerate headquartered in Mountain View, California. It was created through a corporate restructuring of Google on October 2, 2015, and became the parent company of Google and several former Google subsidiaries. The two founders of Google assumed executive roles in the new company, with Larry Page serving as CEO and Sergey Brin as president. Alphabet is the world's fifth-largest technology company by revenue and one of the world's most valuable companies.


YouTube finds influence campaign tied to Hong Kong protests
Alphabet Inc's Google announced on Thursday that its YouTube streaming video service disabled 210 channels appearing to engage in a coordinated influence operation around the Hong Kong protests, days..
Reuters - Published
Google, Apple, Mozilla move to block Kazakh surveillance system
Alphabet Inc's Google, Apple Inc and Firefox browser maker Mozilla took steps on Wednesday to block the Kazakh government from creating an internet surveillance system using their browsers.
Reuters - Published
Google cuts some Android data for carriers over privacy concerns
Alphabet Inc's Google has shut down a service it provided to wireless carriers globally that showed them weak spots in their network coverage, people familiar with the matter told Reuters, because of..
Credit: Reuters Studio Duration: 01:28Published
BMW and Daimler team up on automated driving
Some 1,200 developers at BMW and Daimler will team up to develop automated driving technology, the companies said on Thursday, the latest carmakers forced to pool their development resources at a time..
Credit: Reuters Studio Duration: 01:06Published
Trump calls for inquiry into Google's work with China
U.S. President Donald Trump said on Tuesday his administration would investigate whether Alphabet Inc's Google supports the Chinese government, following accusations that a company official refuted..
Reuters - Published
Trump discusses China, 'political fairness' with Google CEO
U.S. President Donald Trump said he met with the chief executive of Alphabet Inc's Google on Wednesday and discussed "political fairness" and the company's business in China.
Reuters - Published
Google's work in China benefiting China's military: U.S. general
The United States' top general said on Thursday that the Chinese military was benefiting from the work Alphabet Inc's Google was doing in China, where the technology giant has long sought to have a..
Reuters - Published
YouTube to ban comments on most videos with minors amid concerns of child exploitation
YouTube, owned by Google parent company Alphabet, began disabling comments last week on "tens of millions of videos" with possible predatory behavior.
USATODAY.com - Published
Google's sister company, Verily, might be making smart shoes that track your weight gain
Alphabet, Google's parent company, isn't the first tech company to hire health experts. Apple has hired nearly 50 medical doctors in 2018.
USATODAY.com - Published
You Might Like