Keisha Lance Bottoms
Mayor of Atlanta, Georgia, United States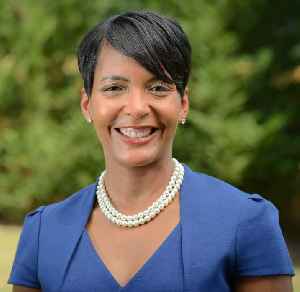 Keisha Lance Bottoms is an American politician and lawyer who is the 60th mayor of Atlanta, Georgia. She was elected mayor in 2017. Before becoming mayor, she was a member of the Atlanta City Council, representing part of Southwest Atlanta.


'Our votes can be our voice' -Bottoms

Atlanta Mayor Keisha Lance Bottoms invoked the city's late congressman and civil rights icon John Lewis when she said at the DNC Thursday "that if we fail to exercise the right to vote... we can lose..
Credit: Reuters Studio Duration: 02:21
Published
Oh, Never Mind: Georgia Governor Stops Going After Atlanta Mayor, City Council

Georgia's Republican Governor Brian Kemp is dropping his July lawsuit against Atlanta's city council and Mayor Keisha Lance Bottoms. HuffPost reports the dispute was over Atlanta's order to wear masks..
Credit: Wochit News Duration: 00:35
Published
You Might Like



Atlanta's mayor calls for huge voter turnout

Atlanta Mayor Keisha Lance Bottoms has invoked the legacy of civil rights icon John Lewis as she encourages people to vote. (Aug. 20)  




USATODAY.com - Published





Mayor Keisha Lance Bottoms on the historic moment with Kamala Harris on Democratic ticket

Senator Kamala Harris will formally accept the nomination for vice president at the Democratic National Convention on Wednesday. She is the first Black woman and first Asian American on a major party..




CBS News - Published





A look at Biden's potential running mates: Maggie Hassan, Keisha Lance Bottoms, and Tammy Baldwin

Presumptive Democratic nominee Joe Biden is expected to announce his pick for vice president next week. CBS News political correspondent Ed O'Keefe joined CBSN with more on some of the contenders:..




CBS News - Published





Ex-Atlanta Cop Charged in Rayshard Brooks' Death Sues, Wants Job Back

Garrett Rolfe, the ex-Atlanta cop who shot and killed Rayshard Brooks during his arrest in a Wendy's parking lot, thinks he never should've been canned ... he's suing to get his job back. Rolfe is..




TMZ.com - Published





While Virus Surges, Georgia Governor Sues Atlanta Mayor to Block Mask Rules

Gov. Brian Kemp filed a lawsuit against Keisha Lance Bottoms, the mayor of Atlanta, to block the city's mask requirement.




NYTimes.com - Published





Coronavirus updates: Atlanta Mayor Keisha Lance Bottoms tests positive; ICE may deport foreign students; MLB's testing struggles

Atlanta Mayor Keisha Lance Bottoms announced she has tested positive. MLB teams are stopping workouts. New drug enters late-stage trials. Latest news.  




USATODAY.com - Published





'She has found her voice': Atlanta Mayor Keisha Lance Bottoms steps into national spotlight amid policing debate

The Atlanta mayor, mentioned as a possible running mate for Joe Biden, has faced her own policing crisis with the shooting of Rayshard Brooks Friday.




USATODAY.com - Published





Atlanta Mayor Tightens Rules on When Police Can Use Force

Mayor Keisha Lance Bottoms issued a series of executive orders after the shooting of Rayshard Brooks, which has stirred protests and pushed the city into a broader reckoning over policing.




NYTimes.com - Published





Atlanta mayor says to order police to de-escalate, intervene

Atlanta Mayor Keisha Bottoms on Monday said she would issue orders requiring police officers to de-escalate situations and imposing a duty to intervene when officers see another officer using force..




Reuters - Published





Atlanta mayor says 'abundantly clear' review of policing needed

Atlanta Mayor Keisha Bottoms said on Friday she would issue a series of administrative orders to accelerate a review of policing in the wake of the police shooting of Rayshard Brooks.




Reuters - Published





Inside Biden's Vice-Presidential Search: Who's on the List and Where It Stands

The search committee is conducting interviews and seeking private documents, and prospects like Val Demings and Keisha Lance Bottoms are getting a closer look as political currents influence the..




NYTimes.com - Published





Atlanta officers fired after video shows use of excessive force during George Floyd protest

Atlanta Mayor Keisha Lance Bottoms called the body cam footage "disturbing."  




USATODAY.com - Published





Atlanta Mayor Keisha Lance Bottoms makes plea to protesters: Not a protest, it's chaos

Mayor Keisha Lance Bottoms had an emotional message for violent protesters who brought 'chaos' to her city.  




USATODAY.com - Published





'This is not a protest ... This is chaos': Atlanta Mayor Keisha Lance Bottoms pleads for peace amid fiery George Floyd protests

Images and videos showed fiery demonstrations in Atlanta on Friday night, prompting an impassioned plea for peace from Mayor Keisha Lance Bottoms.




USATODAY.com - Published




Atlanta mayor: Local leaders know best on virus

Atlanta Mayor Keisha Lance Bottoms says local leaders should have been consulted before Georgia Gov. Brian Kemp reopened nonessential businesses. She says she's concerned the decision puts black..




USATODAY.com - Published