Sacha Baron Cohen
English actor, comedian, screenwriter, and film producer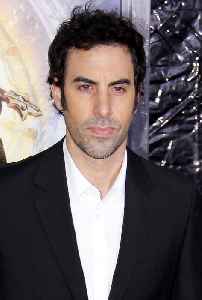 Sacha Noam Baron Cohen is an English actor, comedian, writer and producer. He is known for his creation and portrayal of fictional satirical characters, including Ali G, Borat Sagdiyev, Brüno Gehard and Admiral General Aladeen. Baron Cohen adopts a variety of accents and guises for his characters. He interacts with unsuspecting subjects, who do not realise they have been set up for self-revealing ridicule. On these interactions, The Observer states, "his career has been built on winding people up, while keeping a deadpan face".


'Borat' is back! Film debuts Friday

Actor Sascha Baron Cohen is set to don his bushy mustache to reprise the role of "Borat" for a second time. The film debuts on Amazon Prime on October 23rd, and will tackle themes such as the..
Credit: Reuters Studio Duration: 01:43
Published
Sacha Baron Cohen spent five days in character as Borat for sequel

Cohen has reprised his titular role for a second movie, following 2006's 'Borat: Cultural Learnings of America for Make Benefit Glorious Nation of Kazakhstan' .
Credit: Cover Video STUDIO Duration: 00:55
Published
First trailer for 'Borat' sequel drops

The popular character created by performer Sacha Baron Cohen is back in a sequel to the 2006 runaway hit.
Credit: Cover Video STUDIO Duration: 01:01
Published
Sacha Baron Cohen's Return as Borat, Chadwick Boseman's Final Movie Role & More News | THR News

Sacha Baron Cohen returns as Borat ahead of the 2020 U.S. Presidential election, Netflix gives fans a preview of Chadwick Boseman's last role in "Ma Rainey's Black Bottom" & Chrissy Teigen shares..
Credit: The Hollywood Reporter Duration: 02:28
Published
The 1960s meet 2020 in Sorkin's 'Chicago 7' film

It may be set in the late 1960s but "The Trial of the Chicago 7", with its themes of protest, civil rights and police brutality, has much to say about America today. Lisa Bernhard has more.
Credit: Reuters - Politics Duration: 02:07
Published
Sacha Baron Cohen's Borat sequel to launch on Amazon Prime Video

Sacha Baron Cohen's sequel to the 2006 hit comedy Borat will premiere onAmazon Prime Video. Details are thin on the ground about the film, but reportsin the US suggest it will launch on the streaming..
Credit: PA - Press Association STUDIO Duration: 01:16
Published
Kim Kardashian West Protesting Facebook

New York (CNN Business) Kim Kardashian West, who has one of the biggest Instagram followings in the world, said Tuesday that she would be joining other high-profile users in a protest against..
Credit: Wochit News Duration: 00:32
Published
Sacha Baron Cohen secretly filmed 'Borat 2'

'Borat 2' is reportedly in the works.
Credit: Cover Video STUDIO Duration: 00:51
Published
You Might Like



Sacha Baron Cohen's 'Borat' Daughter Got into White House, Met Don Jr. at Fundraiser

White House security is looking pretty lax in new video showing Sacha Baron Cohen's 'Borat' costar easily gaining access and coming within feet of President Trump. The footage is of Maria Bakalova --..




TMZ.com - Published





Rudy Giuliani's 'Borat 2' scene: What can he do about it legally? Not a lot, experts say

Can Rudy Giuliani fix his "Borat 2" embarrassment by suing Sacha Baron Cohen? He can try but he'll fail, experts say.




USATODAY.com - Published





Sacha Baron Cohen Says Giuliani 'Borat' Scene Not Innocent as Rudy Insists

Sacha Baron Cohen says it's pretty clear to him what was on Rudy Giuliani's mind during his notorious scene in the 'Borat' sequel ... but urges everyone to judge for themselves. Borat himself, along..




TMZ.com - Published





5 jaw-dropping moments in 'Borat 2,' from Rudy Giuliani to a pro-life prank

Sacha Baron Cohen has plenty more conservatives to satirize in outrageous ways in his new sequel "Borat Subsequent Moviefilm." Let's review.




USATODAY.com - Published





'I here to defend America's mayor': Sacha Baron Cohen's Borat pokes at Rudy Giuliani in video

After Rudy Giuliani has caught immense heat for a compromising prank in 'Borat 2,' Sacha Baron Cohen's character is now 'defending' Trump's lawyer.




USATODAY.com - Published





What to stream this weekend: 'Borat 2,' Bill Murray's 'On the Rocks,' 'Rebecca' and 'The Witches'

New films are opting for streaming amid the pandemic. Out this weekend: Sacha Baron Cohen returns in 'Borat 2,' Bill Murray stars in 'On the Rocks.'




USATODAY.com - Published





Giuliani denies he did anything wrong in the new 'Borat' movie.

President Trump's personal lawyer, Rudolph W. Giuliani, denied he did anything wrong after he was caught up in Sacha Baron Cohen's new "Borat" satire.




NYTimes.com - Published




Critics praise Sacha Baron Cohen's 'Borat 2' as 'fitfully funny' and 'urgently satirical'

Sacha Baron Cohen's Borat is back! See what critics are saying about the "weirdly poignant" sequel, which has 85% positive reviews on Rotten Tomatoes.




USATODAY.com - Published





Rudy Giuliani's Hand in His Pants in New 'Borat' Scene

Rudy Giuliani might have some 'splaining to do about an apparently compromising scene in Sacha Baron Cohen's new 'Borat' installment. President Trump's adviser admits he got duped into shooting the..




TMZ.com - Published





New 'Borat 2' pranks Trump's lawyer Rudy Giuliani in eyebrow-raising situation

President Trump's lawyer Rudy Giuliani was pranked by Sacha Baron Cohen and caught in a possibly inappropriate situation in the new "Borat 2."




USATODAY.com - Published





'Borat' Creators Sued by Holocaust Survivor's Estate for Callously Tricking Her

A Holocaust survivor speaking with Sacha Baron Cohen for his new 'Borat' movie was callously duped, because she thought he was making a legit documentary ... so claims her estate in a new lawsuit. The..




TMZ.com - Published





Did Sacha Baron Cohen prank a conservative rally with a racist singalong?

A performer alleged to be Sacha Baron Cohen took the stage Saturday at a conservative rally, urging the crowd to sing a song with racist lyrics.




USATODAY.com - Published





Sacha Baron Cohen rips Facebook, social media for being 'greatest propaganda machine in history'

Sacha Baron Cohen is going after Facebook and more social media for a long list of grievances including spreading conspiracies and fake news.




USATODAY.com - Published





ShowBiz Minute: Tekashi 6ix9ine, Trebek, Baron Cohen

Tekashi 6ix9ine testifies against reputed members of a violent New York City gang; Alex Trebek is forced to restart treatment; Sacha Baron Cohen asks judge to dismiss lawsuit. (Sept. 18)  




USATODAY.com - Published