Hydroxychloroquine
Antimalarial medication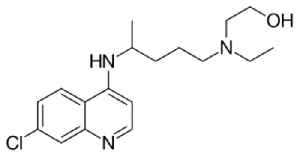 Hydroxychloroquine (HCQ), sold under the brand name Plaquenil among others, is a medication used to prevent and treat malaria in areas where malaria remains sensitive to chloroquine. Other uses include treatment of rheumatoid arthritis, lupus, and porphyria cutanea tarda. It is taken by mouth. HCQ is being studied to prevent and treat coronavirus disease 2019 (COVID‑19). High-quality evidence of benefit for such use is lacking, with concerns of potential harms from side effects.


Happy that WHO resumed trials of HCQ: CISR

World Health Organisation (WHO) has resumed trials of hydroxychloroquine (HCQ). Speaking on it, Director General of Council of Scientific an Industrial Research (CSIR), Dr. Shekhar C Mande said, "We..
Credit: ANI Duration: 01:16
Published
COVID-19: CSIR DG supports ICMR over WHO's decision on HCQ clinical trials

While commenting on World Health Organisation's decision to temporarily suspend clinical trials of hydroxychloroquine, Director General of Council of Scientific and Industrial Research (CSIR), Shekhar..
Credit: ANI Duration: 01:43
Published
You Might Like
Trump's Inaccurate Claims on Hydroxychloroquine
The president falsely described scientific research around the malaria drug, falsely denied the existence of a federal warning against it and argued, with no evidence, that large numbers of health care..
NYTimes.com - Published
Search this site and the web: