Fiji
Country in Oceania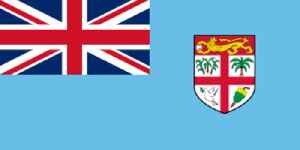 Fiji, officially the Republic of Fiji, is an island country in Melanesia, part of Oceania in the South Pacific Ocean about 1,100 nautical miles northeast of New Zealand's North Island. Its closest neighbours are Vanuatu to the west, New Caledonia to the southwest, New Zealand's Kermadec Islands to the southeast, Tonga to the east, the Samoas and France's Wallis and Futuna to the northeast, and Tuvalu to the north. Fiji consists of an archipelago of more than 330 islands—of which 110 are permanently inhabited—and more than 500 islets, amounting to a total land area of about 18,300 square kilometres (7,100 sq mi). The most outlying island is Ono-i-Lau. The two major islands, Viti Levu and Vanua Levu, account for 87% of the total population of 898,760. The capital, Suva, on Viti Levu, serves as the country's principal cruise-ship port. About three-quarters of Fijians live on Viti Levu's coasts, either in Suva or in smaller urban centres such as Nadi—where tourism is the major local industry—or Lautoka, where the sugar-cane industry is paramount. Due to its terrain, the interior of Viti Levu is sparsely inhabited.


Fiji PM calls for Australia to 'unite behind the science' of climate change
Fiji Prime Minister Frank Bainimarama called on Monday on Australia to "unite behind the science" and be far more ambitious in reducing greenhouse gas emissions that cause climate change.
Reuters - Published
Fiji PM accuses Australia's Morrison of 'insulting' Pacific island nations
Fiji Prime Minister Frank Bainimarama accused Australian Prime Minister Scott Morrison of insulting leaders of Pacific island nations during a regional summit earlier this week, and said Chinese..
Reuters - Published
Michael Cheika announces Australia's 23-men to play against Fiji
Cheika picks Pocock and Hooper for Fiji clash
Credit: Reuters - Sports Duration: 01:18Published
Cheers! Sapporo taps into rugby fans thirst for beer
There is excitement in the air, mixed with a sense of trepidation, in Sapporo as the northern Japanese city prepares itself for an influx of thirsty rugby fans during the opening weekend of the World..
Credit: Reuters Studio Duration: 01:34Published
Indonesia looks east to expand Pacific diplomacy, trade
Indonesia will establish diplomatic relations with the Pacific states of Niue and Cook Islands while pursuing trade deals with Fiji and Papua New Guinea, Foreign Minister Retno Marsudi said on Friday,..
Reuters - Published
Unidentified illness kills young Texas couple in Fiji
A young Texas couple has died from an unidentified illness while vacationing in Fiji. Their cause of death is being investigated, but U.S. officials said the local government has warned of a dangerous..
CBS News - Published
Texas couple in Fiji dies of myserious illness
U.S. authorities are looking into what caused a couple from Fort Worth, Texas, to die while on vacation in Fiji. The World Health Organization is assisting in the investigation. Janet Shamlian reports.
CBS News - Published
Couple dies of mysterious illness during vacation in Fiji, family says
"They knew something was going on in their body and were able to get to the hospital," a relative said of David and Michelle Paul of Fort Worth.
USATODAY.com - Published
Young Texas parents die of mysterious illness in Fiji
David and Michelle Paul were vacationing on the tropical island from Fort Worth, Texas
CBS News - Published
Fiji suspends Boeing 737 MAX flights
Fiji Airways and the Civil Aviation Authority of Fiji on Wednesday temporarily grounded the carrier's two Boeing Co 737 MAX planes, following two fatal crashes involving the aircraft in Indonesia and..
Reuters - Published
You Might Like