William H. McRaven
United States admiral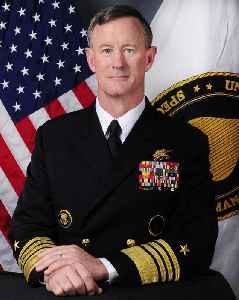 William Harry McRaven is a retired United States Navy admiral who last served as the ninth commander of the United States Special Operations Command from August 8, 2011, to August 28, 2014. From 2015 to 2018, he was the chancellor of The University of Texas System.


Meet the guy responsible for you taking your shoes off at airport security
Admiral McRaven is the man who got Osama bin Laden and Captain Phillips, but there are a few things he may not be so proud of.
USATODAY.com - Published
What threatens democracy? Legendary Navy SEAL warns of Trump's attacks on US institutions
Exclusive: After missions against Saddam Hussein and Osama bin Laden, retired admiral William McRaven warns of Trump's attacks on democracy
USATODAY.com - Published
Legendary Navy SEAL has served his country for decades
William McRaven has played a key role in thousands of dangerous missions abroad, including commanding the one that killed Osama bin Laden
USATODAY.com - Published
Lessons from Admiral William H. McRaven
Admiral William McRaven, now retired, thought commanding the raid on Osama bin Laden's compound would be the crowning achievement of his 37 years as a Navy SEAL, until he gave a 2014 commencement..
CBS News - Published
Book excerpt: "Sea Stories" by Admiral William H. McRaven
In his latest book, the retired Navy SEAL commander and author of the bestselling "Making a Bed" writes "sometimes unbelievable stories of life"
CBS News - Published
Search this site and the web:
You Might Like