Zack Greinke
American baseball player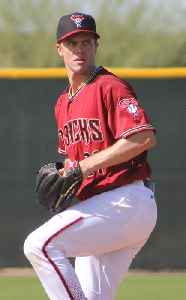 Donald Zackary Greinke is an American professional baseball pitcher for the Houston Astros of Major League Baseball (MLB). He previously played for the Kansas City Royals, Milwaukee Brewers, Los Angeles Angels of Anaheim, Los Angeles Dodgers, and the Arizona Diamondbacks.


You Might Like
Astros' decision to pull Zack Greinke in Game 7 will face scrutiny forever | Opinion
Zack Greinke was cruising until he gave up a solo home run and a walk in the seventh inning. A.J. Hinch pulled him and that may haunt him.
USATODAY.com - Published
World Series Game 7 predictions: Will Nationals knock off Astros, win first title?
It all comes down to this: Game 7 of the World Series between the Nationals and Astros. Max Scherzer will face Zack Greinke. Who comes out on top?
USATODAY.com - Published
Greinke gets 200th win, pitches Astros past A's 4-1
Zack Greinke threw seven smooth innings for his 200th win, pitching the first-place Houston Astros past the Oakland Athletics 4-1 to avoid a four-game sweep
USATODAY.com - Published
LEADING OFF: Greinke goes for Houston, Yanks crush at Camden
LEADING OFF: Greinke debuts for Houston, Yankees crush at Camden Yards, Foltynewicz returns to Braves, Cubs minus Kimbrel
USATODAY.com - Published
Stunning Zack Greinke trade makes Astros the World Series favorite
Houston landed the 35-year-old right-hander in a deal with the Diamondbacks on Wednesday, adding Greinke to an already strong rotation.
USATODAY.com - Published
McMahon drives in 3 as Rockies beat Greinke, D-backs 6-4
Ryan McMahon hit a tiebreaking, two-run double in the seventh inning to make up for a costly error, and the Colorado Rockies added on in a 6-4 win over the Arizona Diamondbacks
USATODAY.com - Published
Greinke and 4 relievers lead Diamondbacks past Blue Jays 6-0
Greinke and four relievers combine four five-hit shutout, Diamondbacks beat Blue Jays 6-0 for third straight win
USATODAY.com - Published