Louisville, Kentucky
City in Kentucky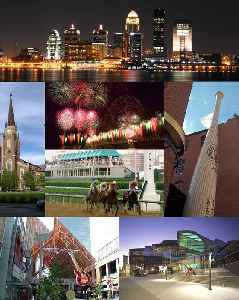 Louisville is the largest city in the Commonwealth of Kentucky and the 29th most-populous city in the United States. It is one of two cities in Kentucky designated as first-class, the other being Lexington, the state's second-largest city. Louisville is the historical seat and, since 2003, the nominal seat of Jefferson County, on the Indiana border.


Seattle clashes spark 45 arrests, 21 cops hurt

[NFA] Police said a protest turned into a riot in Seattle, Washington, on Saturday, and demonstrators nationwide took to the streets in solidarity with racial justice activists opposed to federal..
Credit: Reuters - Politics Duration: 02:19
Published
Wearing a mask is 'not complicated': McConnell

Senate Majority Leader Mitch McConnell on Monday in Louisville, Kentucky repeated his call for people to wear masks, saying it 'is not complicated' and those in public life should encourage it.
Credit: Reuters Studio Duration: 01:21
Published
Mystery Shooter Fired 12 Times Into Protest

(Newser) – Gunfire erupted at a protest against police violence Saturday, leaving one man dead and another person injured. Details are scant, but a bystander video (WARNING: disturbing images) shows..
Credit: Wochit News Duration: 00:39
Published
Man shot and killed at US protest against Breonna Taylor's death

A man died in a shooting on Saturday night at a park in central Louisville, Kentucky, where demonstrators had gathered to protest over the death of Breonna Taylor, a black woman killed by officers in..
Credit: PA - Press Association STUDIO Duration: 01:06
Published
Louisville Kentucky Police Officer Fired Following Shooting Death Of Breonna Taylor

A Louisville, Kentucky police officer involved in the fatal shooting of Breonna Taylor has been fired. According to CNN, Det. Brett Hankison was terminated via a letter signed by the police chief. The..
Credit: Wochit News Duration: 00:32
Published
Kentucky officer fired over Breonna Taylor death

One of three officers involved in the shooting death of Breonna Taylor, a Black woman killed in a hail of gunfire when drug investigators burst into her home in Louisville, Kentucky, three months ago..
Credit: Reuters Studio Duration: 01:31
Published
Christopher Columbus statue pulled down, draped in burning flag in VA

CONTAINS PROFANITY. Protesters in Richmond, Virginia tore down a statue of Christopher Columbus on Tuesday and dragged it along the ground before dumping it in a lake.
Credit: Reuters Studio Duration: 00:19
Published
You Might Like



Oprah Winfrey Buys Breonna Taylor Billboards in Louisville Demanding Justice

Oprah Winfrey is amping up the pressure to get justice for Breonna Taylor by blanketing Louisville with billboards demanding the arrest of the cops who shot her. Oprah purchased dozens of billboards..




TMZ.com - Published





Louisville dismisses three men's soccer players after party leads to COVID-19 outbreak

After a party led to 29 COVID-19 cases and a temporary shutdown of four programs, three men's soccer players were dismissed and three more suspended.




USATODAY.com - Published





70 days of protest: Breonna Taylor's death has created a much larger movement in Louisville

An array of groups are protesting gentrification, deep-rooted oppression and police violence in Louisville in the wake of Breonna Taylor's death.




USATODAY.com - Published




Breonna Taylor autopsy, police radio files shouldn't be released yet, Kentucky AG says

The Kentucky Attorney General's office released open records rulings finding that Louisville public agencies were justified in denying requests.




USATODAY.com - Published




Louisville May Become Latest City to Declare Racism a Public Health Crisis

"We must have a new sense of urgency to make this declaration," Mayor Greg Fischer said. The city has been the focus of protests after the police killing of Breonna Taylor.




NYTimes.com - Published





Live updates from weekend protests: 'Unlawful assembly' in Richmond; Man shot to death in Austin; 11 protesters arrested in Louisville

A man was shot to death in Austin. Richmond police declared an "unlawful assembly" and Portland police declared "a riot." Latest protest news.




USATODAY.com - Published




Protest updates: Dozens of protesters arrested in Louisville, Kentucky; local officials criticize federal involvement

In Louisville, Kentucky, more than 100 Black Lives Matter protesters were confronted by police and 76 were arrested.




USATODAY.com - Published




Louisville police: Releasing records in Breonna Taylor case hurts impartial investigation

The Courier Journal sued Louisville police in May, demanding the release of the investigative file into the fatal police shooting of Breonna Taylor.




USATODAY.com - Published




She made Breonna's Law a reality in Louisville. Now, she's taking her fight to the state

Keturah Herron, a policy strategist, is one of several Black women leading Louisville's movement for racial justice.




USATODAY.com - Published





87 Face Felony Charges After Protesting Breonna Taylor's Death

The demonstrators were arrested at the home of Kentucky's attorney general in Louisville, where they had gathered to demand charges against the officers who killed Ms. Taylor.




NYTimes.com - Published





Texans WR Kenny Stills facing felony charge after arrest at Breonna Taylor protest

Houston Texans wide receiver Kenny Stills was among 87 protesters arrested Tuesday at a Breonna Taylor protest in Louisville, Kentucky.




USATODAY.com - Published





Despite local and national calls to defund police, Louisville didn't. Here's why.

Louisville, in the national spotlight after the death of Breonna Taylor, declined to shift funding from its police department.




USATODAY.com - Published




Mural of Breonna Taylor painted in Maryland park

Nearly 30 volunteers and 10 teaching artists painted a 7,000-square-foot mural honoring Breonna Taylor – a 26-year old Black woman who was fatally shot by police in her Louisville, Kentucky apartment..




USATODAY.com - Published





Breonna Taylor's lawyers link her shooting death to Louisville gentrification plan, claim 'outrageous' execution of search warrant

The complaint claims Breonna Taylor got wrapped up in a case that was less about a drug house and more about speeding up the city's development.




USATODAY.com - Published





Breonna Taylor's lawyers link her shooting death to 'outrageous' search warrant, Louisville gentrification plan in new court filing

The complaint claims Breonna Taylor got wrapped up in a case that was less about a drug house and more about speeding up the city's development.  




USATODAY.com - Published





Investigation to be launched into Louisville mayor's handling of Breonna Taylor case

A Louisville council intends to launch an investigation into how Mayor Greg Fischer's administration handled the police shooting of Breonna Taylor.




USATODAY.com - Published




What we know about Steven Lopez, the suspect in the fatal Louisville protest shooting

Steven Lopez is accused of firing a gun into the crowd at a protest at Louisville's Jefferson Square Park, killing a 27-year-old photographer.  




USATODAY.com - Published





Video appears to show gunman opening fire at Louisville, KY park protest

Dramatic video appears to show the gunman shooting near peaceful protesters who gathered in the park.  




USATODAY.com - Published





What we know about Saturday's fatal shooting at the downtown Louisville protest

A shooting Saturday at Louisville's Jefferson Square Park left a man dead and another individual injured following a month of Breonna Taylor protests.




USATODAY.com - Published




1 Dead After Man Shoots Into Crowd at Breonna Taylor Protest Park

Video footage showed a man firing more than a dozen shots at a park in Louisville, Ky., where protesters had gathered to call for justice for Ms. Taylor, who was killed by the police in March.




NYTimes.com - Published





Louisville shooting: At least one person shot in Jefferson Square Park where Black Lives Matter protests held

People have been gathering in the downtown park to protest Breonna Taylor's death and police brutality.




USATODAY.com - Published




Injunction request helps reopen Louisville polls as voters pound on doors

U.S. Senate candidate Charles Booker won a court order that let Louisville's only polling site reopen to voters who missed the initial cutoff.




USATODAY.com - Published





Louisville cop Brett Hankison fired for his role in Breonna Taylor fatal shooting

Interim Chief Robert Schroeder wrote to Hankison that after a hearing held Tuesday, Schroeder was moving forward with terminating his employment.




USATODAY.com - Published




Voting largely smooth in Kentucky primary election

With only one polling place designated Tuesday for Louisville, a city of 600,000 people, voters who didn't cast mail-in ballots or show up early faced long lines in Kentucky's primary. (June 23)  




USATODAY.com - Published





What's next for Louisville police officer Brett Hankison after Breonna Taylor's death?

Louisville's interim police chief took a first step toward firing officer Brett Hankison on Friday, but that doesn't mean it's guaranteed to happen.




USATODAY.com - Published




'This is for you, baby': 22 days of protests are about more than Breonna Taylor

Protests in Louisville have lasted even longer than Ferguson's unrest in 2014, and motivations lie in change, improvement, and most of all, Hope.




USATODAY.com - Published




Officers can't be suspended without pay in Breonna Taylor case yet, Louisville attorney says

The attorney said there is "disputable evidence" about if misconduct occurred in the fatal police shooting of Breonna Taylor.  




USATODAY.com - Published





Louisville detective who obtained no-knock warrant for Breonna Taylor's apartment reassigned

Detective Joshua Jaynes wrote five affidavits seeking a judge's permission for no-knock searches as a part of a narcotics investigation in March.




USATODAY.com - Published




Cincinnati, other cities look to Breonna's Law after Louisville bans no-knock warrants

Louisville has banned the use of no-knock search warrants, a step that could soon be followed by others, both in and outside Kentucky.  




USATODAY.com - Published





New Breonna Taylor Law Will Ban No-Knock Warrants in Louisville, Ky.

The Louisville Metro Council voted unanimously to ban no-knock search warrants after the police shot Ms. Taylor dead in her home in March.




NYTimes.com - Published





Breonna's Law: No-knock warrants banned in Louisville after unanimous vote

The ordinance is called Breonna's Law after Breonna Taylor, an unarmed black woman who was fatally shot by Louisville Metro Police in her apartment.  




USATODAY.com - Published





George Floyd live updates: Seattle's 'CHAZ' still stands; Breonna's Law blocks no-knock warrants; Confederate symbolism under fire

Louisville takes action after Breonna Taylor's death. It's a week from Juneteenth. Latest news actions and protests after George Floyd's death.




USATODAY.com - Published




Protests break out around the US following deaths of George Floyd, Breonna Taylor

Major cities around the US rallied with demonstrators in Minneapolis to protest the deaths of George Floyd in Minneapolis and Breonna Taylor in Louisville.




USATODAY.com - Published





Louisville's controversial Castleman statue becomes latest Confederate relic to be removed

The removal of the statue comes after 11 days and nights of protests in Louisville over the police shootings of Breonna Taylor and David McAtee.




USATODAY.com - Published




'They saved me': How protesters protected a lone cop, a moment captured in powerful photos

Five strangers formed a human shield to protect a Louisville metro police officer from angry protesters. Here's the story behind the powerful photos.




USATODAY.com - Published




Breonna Taylor's pregnant neighbor is suing Louisville police, saying they 'blindly fired' into her home

The lawsuit alleges the officers fired shots into the apartment "with a total disregard for the value of human life."




USATODAY.com - Published




The David McAtee Shooting: Did Aggressive Policing Lead to a Fatal Outcome?

The Times analyzed videos of the shooting by the police and National Guardsmen of David McAtee in Louisville, Ky., on June 1 to show how the episode unfolded — and how questionable policing tactics..




NYTimes.com - Published