Sarah Palin
9th Governor of Alaska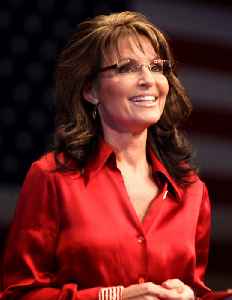 Sarah Louise Palin is an American retired politician, commentator, author, and reality television personality, who served as the ninth governor of Alaska from 2006 until her resignation in 2009. As the Republican nominee for Vice President of the United States in the 2008 election alongside Arizona Senator John McCain, she was the first Republican female vice presidential nominee and the second female vice presidential nominee of a major party, after Geraldine Ferraro in 1984.


Palin's Hopes For Harris

On Tuesday, Democratic Presidential nominee Joe Biden named Kamala Harris his running mate. It's the first time since 2008 that a woman was named the Vice Presidential nominee on a major party ticket...
Credit: Wochit News Duration: 00:38
Published
Joe Biden picks Kamala Harris as his US vice-presidential candidate

Joe Biden, the Presidential candidate, has picked India-origin Kamala Harris as his running mate for the elections. Biden announced the news on Tuesday. Harris is a daughter of Indian and American..
Credit: HT Digital Content Duration: 01:52
Published
Once Stuck Between Biden And Sanders, Kamala Harris Emerges As VP Running Mate

For the first time in American history, a Black and South Asian woman has been chosen for national office by a major political party. CNN reports presumptive Democratic nominee former Vice President..
Credit: Wochit News Duration: 00:34
Published
In It To Win It: Why Biden Picked Kamala Harris As VP Running Mate

Presumptive Democratic presidential nominee Joe Biden has chosen Sen. Kamala Harris (D-Ca.) as his running mate. According to CNN, Biden's pick fulfills his promise to select a woman for the role. The..
Credit: Wochit News Duration: 00:34
Published
You Might Like



On Fox News, Palin used a sexist smear to suggest Harris betrayed her convictions.




NYTimes.com - Published





'Don't get muzzled': Sarah Palin shares the lessons she learned in 2008 with Kamala Harris

"Don't get muzzled – connect with media and voters in your own unique way," wrote Palin, who was often at odds with John McCain's campaign advisers.




USATODAY.com - Published





Joe Biden's Time in Sarah Palin's Shadow

What two strange months in 2008 taught the former vice president about the politics of grievance, and how that might help him pick a running mate of his own to take on Donald Trump.




NYTimes.com - Published





Why would we turn to death panels amid coronavirus? They'll happen if we rush to reopen.

Palin's death panels were fake. Today's would be real. But there is a practical path to protecting people as we restart our economy. Let's choose it.




USATODAY.com - Published





Sarah Palin says NY Times editor's animosity led to defamation

Sarah Palin said in an amended defamation lawsuit against the New York Times on Monday that the deep-seated "animosity and ill-will" of the newspaper's editorial page editor toward her motivated him to..




Reuters - Published





Sarah Palin's husband files for divorce citing 'incompatibility,' according to report

The court documents use their initials instead of full names: T.M.P against S.L.P, the AP reported.  




USATODAY.com - Published





Sarah Palin's husband Todd apparently files for divorce

Court documents say the couple's "incompatibility" makes it "impossible to live together as husband and wife"




CBS News - Published





Sarah Palin's husband seeks divorce, Alaska court filing suggests

Former Alaska Governor Sarah Palin, the 2008 Republican vice presidential nominee, and her husband, Todd, appear headed for divorce after more than 30 years of marriage, state court records showed.




Reuters - Published





Court records point to Sarah Palin divorce filing in Alaska

Former Alaska Governor and onetime Republican vice presidential nominee Sarah Palin's husband, Todd, appears to have filed papers seeking to end their marriage of more than 30 years, state court..




Reuters - Published





Citing 'incompatibility,' Sarah Palin's husband wants divorce, according to reports

The papers, which provide only initials, were filed Friday. The Palins have been married for 31 years.




USATODAY.com - Published





Court revives Sarah Palin defamation case vs NY Times over editorial on shootings

A federal appeals court revived former U.S. vice presidential candidate Sarah Palin's defamation lawsuit against the New York Times, over an editorial that she said maliciously linked her to the 2011..




Reuters - Published





Sarah Palin's defamation lawsuit against New York Times back from the dead

An appeals court has revived a defamation lawsuit Sarah Palin brought against The New York Times.  




USATODAY.com - Published





Sarah Palin can pursue defamation case against NY Times: U.S. appeals court

A federal appeals court revived former U.S. vice presidential candidate Sarah Palin's defamation lawsuit against the New York Times, over an editorial that she said maliciously linked her to the 2011..




Reuters - Published




U.S. appeals court revives Sarah Palin's defamation lawsuit against NY Times: ruling

A federal appeals court on Tuesday revived former U.S. vice presidential candidate Sarah Palin's lawsuit accusing the New York Times of defaming her in an editorial linking her to a 2011 mass shooting.




Reuters - Published