Air force
Military branch of service primarily concerned with aerial warfare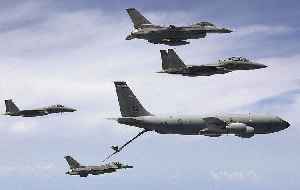 An air force, also known in some countries as an aerospace force or air army, is in the broadest sense, the national military branch that primarily conducts aerial warfare. More specifically, it is the branch of a nation's armed services that is responsible for aerial warfare as distinct from an army or navy. Typically, air forces are responsible for gaining control of the air, carrying out strategic and tactical bombing missions, and providing support to land and naval forces often in the form of aerial reconnaissance and close air support.


Morris hits 5 3s, scores 17; Air Force holds off Fresno St.
Caleb Morris hit five 3-pointers and finished with 17 points, including 14 in the second half, to help Air Force hold off Fresno State for a 64-61 win
USATODAY.com - Published
2/13: CBS Evening News
Former Air Force Intelligence agent accused of spying for Iran; College athlete with Down syndrome wows pro golfers
CBS News - Published
Trump Signs Directive In Step to Create U.S. Space Force
According to Reuters, U.S. President Donald Trump on Tuesday signed a directive to start the lengthy process of creating a new branch of the military dedicated to handling threats in space, the U.S...
Credit: Wochit News Duration: 00:46Published
Former U.S. Air Force officer faces spy charges
U.S. authorities on Wednesday charged former Air Force intelligence officer Monica Witt with helping Iran launch a cyber-spying operation that targeted her former colleagues after she defected from the..
Credit: Reuters Studio Duration: 01:16Published
Former Air Force Intelligence agent accused of spying for Iran
A former U.S. Air Force Intelligence specialist who defected to Iran was indicted Wednesday for giving Iranians information about a top secret U.S. program. She's also accused of revealing the..
CBS News - Published
Former Air Force intelligence officer charged with spying for Iran and revealing defense secrets
Former Air Force intel officer charged with espionage for Iran govt
USATODAY.com - Published
Former Air Force officer charged with espionage
The U.S. accused Monica Witt of revealing highly classified information to Tehran
CBS News - Published
Hardy scores 24 to lift UNLV over Air Force 77-72
Amauri Hardy scores a career-high 24 points as UNLV narrowly beats Air Force, 77-72
USATODAY.com - Published
You Might Like