Greenville, South Carolina
City in South Carolina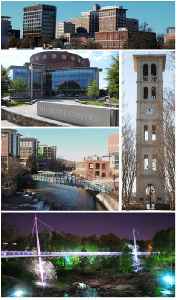 Greenville is a city in and the seat of Greenville County, South Carolina, United States. The city's mayor is Knox H. White, who has been in that position since December 1995. With an estimated population of 70,635 as of 2019, it is the sixth-largest city in the state. The population of the surrounding area was 400,492 as of 2010, making it the third-largest urban area in South Carolina as well as the fastest growing. Greenville is the largest city in the Greenville-Anderson-Mauldin Metropolitan Statistical Area. The MSA had a population of 920,477 in 2019, making it the largest in South Carolina and the third largest in the Carolinas.


You Might Like
Schools prepare for socially distant classrooms
Students in Greenville, South Carolina, can expect to wear masks and practice social distancing inside their classrooms and on school buses when they head back to class in the fall. (July 20)  
USATODAY.com - Published
With library books in tow, 8 Black teens changed Greenville, S.C., 60 years ago
Three members of the Greenville 8 recall how they desegregated the city library system in 1960, sparking wider desegregation throughout the Upstate.
USATODAY.com - Published
South Carolina Nightclub Shooting: 2 Dead and 8 Injured
The club, in Greenville, was hosting a concert on Saturday night despite state orders that nightclubs remain closed because of the coronavirus pandemic, officials said.
NYTimes.com - Published
2 dead, 8 hurt in South Carolina nightclub shooting
A shooting at a nightclub near Greenville left two people dead and eight wounded, according to sheriff's officials.  
USATODAY.com - Published
When schools integrated 50 years ago, these black students had to pick up and move
When schools in Greenville, S.C., finally moved to end segregation 50 years ago, it was black students that did the majority of the moving.
USATODAY.com - Published
Bringing our towns back to life
Contrary to the narrative some hold that America is in decline, many towns and cities are experiencing a rebirth. James Fallows, of The Atlantic magazine, and his wife, Deborah, traveled the country,..
CBS News - Published
Tips lead to arrest in deadly Texas party shooting
The shooting at a Halloween party in Greenville late Saturday left two dead and a dozen injured
CBS News - Published
Shoeless Joe museum honors banned baseball player
'Shoeless' Joe Jackson remains banned from baseball 100 years after he and seven Chicago White Sox teammates were accused of throwing the 1919 World Series. A small museum is located In the house where..
USATODAY.com - Published
She threw a live snake at another woman, crashed into a vehicle, and fled on foot
Greenville, South Carolina police say a 29-year-old woman was arrested following a carjacking and reckless driving incident downtown on Friday night.
USATODAY.com - Published