Saudi Aramco
Saudi Arabian petroleum and natural gas company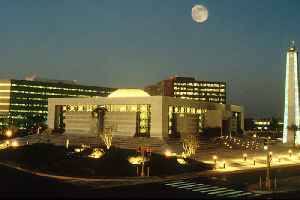 Saudi Aramco, officially the Saudi Arabian Oil Company, is a Saudi Arabian multinational petroleum and natural gas company based in Dhahran, Saudi Arabia.


Apple Hits $2-Trillion Market Cap

Apple just became the first US-listed company to reach a $2 trillion market capitalization. Apple shares rose 1.2% to an all-time high of $467.84 per share on Wednesday to reach the $2-trillion..
Credit: Wochit News Duration: 00:28
Published
Apple Is The World's Most Valuable Company

On Thursday, Apple released a blockbuster earnings report. On Friday, Apple shares surged as much as 7%. Apple's market capitalization briefly overtook Saudi Aramco's on Friday, dethroning the oil..
Credit: Wochit News Duration: 00:34
Published
You Might Like



Five dead in fire at Petronas-Aramco refining complex in Malaysia

A fire killed five people at a refining and petrochemicals complex in southern Malaysia owned by Petronas and Saudi Aramco, authorities said on Monday.




Reuters - Published




Yemen's Houthis say recent attacks on Aramco, airports in response to air strikes

Yemen's Houthi military spokesman said on Friday the group had launched 26 rocket attacks in the past week against airports in southern Saudi Arabia, facilities belonging to oil giant Saudi Aramco and..




Reuters - Published




Yemen's Houthis say they fired at Aramco, other Saudi targets

Yemen's Iran-aligned Houthi movement said on Wednesday it had fired rocket and drone strikes at Saudi targets including Aramco oil facilities, the group's first claim of such attacks since it offered..




Reuters - Published





Yemen's Houthis say they targeted Saudi Aramco facilities in Jizan

Yemen's Iran-aligned Houthi movement said on Wednesday it had carried out operations targeting facilities belonging to Saudi Aramco in Jizan on the Red Sea, but there was no immediate confirmation from..




Reuters - Published




Two killed at Saudi Aramco's SASREF refinery during maintenance

Saudi refiner SASREF, owned by state oil giant Saudi Aramco, said two contractors had died and two more were injured in "an incident" during maintenance work on Sunday, the company said in a statement..




Reuters - Published





Aramco hopes to repair remaining damage from attacks by end-November

Oil major Saudi Aramco hopes to fix by the end of November the last four key pieces of equipment damaged during attacks last month, in a move to allow it to fully regain production capacity, company..




Reuters - Published





Attacks on Saudi Aramco have no impact on IPO plans: CEO

Saudi Aramco's chief executive said on Wednesday there would be no impact on the stock market listing plans of the state oil giant after attacks on its installations last month, which he blamed on..




Reuters - Published





Saudi Aramco CEO says output stood at 9.9 million in October

Attacks on Saudi oil facilities have had no impact on Saudi Aramco's position ahead of a planned partial stock market listing, its Chief Executive Amin Nasser told an Oil & Money conference on..




Reuters - Published





Saudi Aramco chief: attacks may continue without international response

Attacks such as the one on Saudi oil facilities which last month sent oil prices up by as much 20% may continue if there is no concerted international response, Saudi Aramco's Chief Executive Amin..




Reuters - Published





Gulf military heads condemn use of GCC airspaces to carry out Aramco attacks: statement

Gulf military leaders on Thursday met at the request of Saudi Arabia and condemned the use of some members' airspace to carry out attacks last month against Saudi Aramco's oil infrastructure.




Reuters - Published





Saudis project resolve, flash military might after Aramco attack

Thousands of Saudis flocked to public celebrations across the country on Monday to mark national day, which featured a rare military parade and an air of heightened patriotism following last week's..




Reuters - Published





Saudi Arabia tells Japan's biggest refiner about possible shipment change: Nikkei

Saudi state oil firm Aramco has told Japanese refiner JXTG Nippon Oil & Energy about a possible change in shipment, raising concern about the kingdom's ability to supply crude oil a week after attacks..




Reuters - Published





UK PM Johnson and Emir of Qatar discuss Aramco attacks in London meeting

British Prime Minister Boris Johnson and the Emir of Qatar discussed the attacks on the Aramco oil facilities in Saudi Arabia when they met in London on Friday.




Reuters - Published





Russia's Putin, Saudi crown prince discuss attacks: Kremlin

Russian President Vladimir Putin discussed weekend attacks on Saudi Aramco's oil infrastructure by phone with Saudi Crown Prince Mohammed bin Salman on Wednesday, the Kremlin said.




Reuters - Published





Saudi Finance Minister: still considering secondary options for Aramco IPO - Bloomberg

Saudi Arabia is still considering secondary locations for the flotation of oil giant Aramco after primary location Riyadh, Finance Minister Mohammed al-Jadaan said in an interview with Bloomberg TV on..




Reuters - Published





Iran's Rouhani blames U.S., Saudi for conflict in region

President Hassan Rouhani said on Wednesday Iran did not want conflict in the region while Defense Minister Amir Hatami said Tehran had no involvement in the attacks on Saudi Arabia's Aramco oil..




Reuters - Published





French President Macron calls Saudi crown prince on Aramco attacks: press

The Saudi Arabian Crown Prince Mohammed bin Salman received a phone call from the French President Emmanuel Macron on Tuesday to discuss the attack on oil facilities owned by Saudi Aramco, according to..




Reuters - Published





Saudi Defense Ministry press conference to show Iranian involvement in Aramco attacks: state TV

A Saudi Defense Ministry spokesman will hold a press conference on Wednesday to provide information about last week's attack on Aramco, state TV said early on Wednesday.




Reuters - Published





Aramco IPO will be ready within coming 12 months: chairman

Saudi Aramco chairman Yassir al-Rumayyan said on Tuesday a planned initial public offering (IPO) of the state oil giant would be ready within the coming 12 months and that the kingdom was committed to..




Reuters - Published





Aramco's Abqaiq plants have restored 2 million bpd capacity: company source

Saudi Aramco's Abqaiq processing plants have restored 2 million barrels per day (bpd) of capacity following attacks on Saturday, and they are expected to be back at normal capacity by the end of the..




Reuters - Published





Saudi's Aramco allows employees to enter Abqaiq compound: Al Arabiya

Saudi Arabia's state oil giant Aramco allowed employees to enter Abqaiq compound for the first time since the Saturday attack, State-owned Al Arabiya reported on Tuesday citing its own sources.




Reuters - Published





U.S. House Speaker Pelosi requests intelligence briefings on Saudi attacks

U.S. House of Representatives Speaker Nancy Pelosi has requested a briefing for all House members on the Saudi Aramco attacks and Iran, a spokesman said on Tuesday.




Reuters - Published





Saudi energy minister to hold press conference on Tuesday

Saudi Arabia's energy minister Prince Abdulaziz bin Salman will hold a press conference on Tuesday following the attacks on Aramco facilities in Abqaiq and Khurais which have cut the company's crude..




Reuters - Published





UAE official: Saudi Aramco attacks are a dangerous escalation

Attacks on oil plants in Saudi Arabia are a dangerous escalation and the international community should stand by Riyadh and ensure regional stability, a senior United Arab Emirates official said on..




Reuters - Published





Iran's Rouhani says Aramco attacks were a reciprocal response by Yemen

An attack on Saudi Arabia's Aramco oil facilities was a reciprocal measure by "Yemeni people" to assaults on this country, said Iranian President Hassan Rouhani on Monday, hours after a Saudi-led..




Reuters - Published





Saudi Aramco attacks: What we know so far

Attacks on two sites at the heart of Saudi Arabia's oil industry shut down more than 5% of global supply, sent oil prices as much as 20% higher and prompted the United States to blame Iran despite..




Reuters - Published





German petrol prices at pumps stable after Aramco attack: industry group

The attacks against oil refineries in Saudi Arabia have so far had no impact on prices at filling stations in Germany, the country's Petroleum Industry Association said on Monday.




Reuters - Published





Saudi Aramco swaps crude on tanker to heavy from light grade: source

Saudi Aramco has changed the type of crude loading onto a tanker due to go to Asia to Arab Heavy from Arab Light, a source familiar with the matter said.




Reuters - Published





Yemen's Houthis say Aramco plants still a target: tweets

Yemen's Houthi movement said on Monday that Saudi Aramco's oil processing plants were still a target and could be attacked at "any moment", warning foreigners to leave the area.




Reuters - Published





Aramco tells Indian refiner it will get oil: source

Saudi Aramco has told one Indian refinery there will be no immediate impact on oil supplies as it will deliver crude from other sources and had adequate inventory, a source with the refinery said on..




Reuters - Published





Iran hardliners likely to gain from tensions over Aramco attacks

Iran distanced itself on Sunday from attacks on Saudi oil facilities but hardliners in Tehran might chalk the assaults up as a win against Washington's tougher policy toward the Islamic Republic,..




Reuters - Published





Saudi, Gulf stocks fall after attacks on Aramco oil plants

Saudi stocks fell sharply on Sunday, after attacks on two plants at the heart of the kingdom's oil industry a day earlier knocked out more than half of Saudi crude output.




Reuters - Published




Saudi's full oil supply could take weeks to resume: source

Saudi Arabia's return to its full oil supply capacity after Saturday's attacks on Aramco oil plants could take "weeks not days", a source close to the matter told Reuters on Sunday.




Reuters - Published





Iran dismisses as 'pointless' U.S. claims about Aramco attacks: TV

Iran dismissed as "pointless" U.S. claims that Tehran was behind drone attacks which hit two of Saudi Arabia's Aramco oil installations on Saturday, Iranian foreign ministry spokesman said on Sunday.




Reuters - Published





Iran says U.S. bases and aircraft carriers within range of its missiles: Tasnim

An Iranian Revolutionary Guards commander said on Sunday that U.S. bases and aircraft carriers were within range of Iranian missiles, a day after Yemen's Iran-aligned Houthi group attacked two Saudi..




Reuters - Published





Saudi energy minister says attacks partially halted Aramco production

Saudi Arabian energy minister Prince Abdulaziz bin Salman said on Sunday that attacks on the kingdom's oil facilities have partially halted crude and gas production from the world's top oil exporter.




Reuters - Published





Factbox: Inside Saudi Aramco's oil operations

Saudi Arabia's oil production and exports have been disrupted by




Reuters - Published





Yemen rebels claim drone attack on Saudi oil sites

Drones claimed by Yemen's Houthi rebels attacked the world's largest oil processing facility in Saudi Arabia and a major oilfield operated by Saudi Aramco early Saturday, sparking a huge fire at a..




USATODAY.com - Published





Houthi drones hit two Aramco plants, sources say oil supplies disrupted

Yemen's Iran-aligned Houthi group on Saturday attacked two Saudi Aramco plants at the heart of the kingdom's oil industry, including the world's biggest petroleum processing facility, sparking fires in..




Reuters - Published




Saudi Arabia's oil supply disrupted after drone attacks: sources

Saudi Arabia's oil production and exports have been disrupted, said three sources familiar with the matter, after drone attacks on two Aramco plants on Saturday, including the world's biggest oil..




Reuters - Published





U.S. envoy to Saudi Arabia condemns attacks on Aramco oil facilities

The U.S. envoy to Saudi Arabia condemned as "unacceptable" drone attacks on Saudi oil facilities on Saturday which were claimed by Yemen's Iran-aligned Houthi movement.




Reuters - Published





Saudi Arabia says fires at Aramco sites 'under control' after drone attacks

Drone attacks on two Saudi Aramco factories in Abqaiq and Khurais provinces on Saturday sparked fires that the state oil company brought under control, the Saudi interior ministry spokesman said..




Reuters - Published





Fires from drone attacks on two Aramco sites under control: Saudi govt spokesman

Drone attacks on two Saudi Aramco factories in Abqaiq and Khurais on Saturday caused fires that the company's security forces brought under control, a spokesman for Saudi Arabia's interior ministry..




Reuters - Published





Houthi drone attack on Saudi oilfield causes gas fire, output unaffected

A drone attack launched by Yemen's Houthi group on an oil field in eastern Saudi Arabia on Saturday caused a limited fire at a gas plant but had no impact on oil production, state-run oil company Saudi..




Reuters - Published




Saudi oil operations unaffected by Houthi drone attack, Saudi Aramco says

A drone attack launched by Yemen's Houthi group on the Shaybah oil field in eastern Saudi Arabia on Saturday caused a "limited" fire at a gas plant but had no impact on oil production, state-run oil..




Reuters - Published





Yemeni Houthis claim attack on Saudi oilfield; no Saudi confirmation

Yemen's Houthi movement launched drone attacks on oil facilities in a remote area of Saudi Arabia, the group's Al Masirah TV said on Saturday, but there was no immediate confirmation from Saudi..




Reuters - Published