Steve Carell
American actor and comedian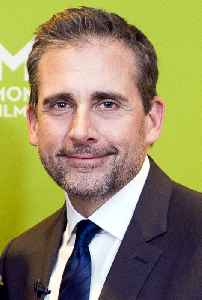 Steven John Carell is an American actor, comedian, writer, producer, and director. He is best known for his portrayal of boss Michael Scott on the NBC sitcom The Office (2005–2013), on which he also worked as an occasional producer, writer and director. He was recognized as "America's Funniest Man" by Life magazine. Carell has received numerous accolades for his performances in both film and television, including the Golden Globe Award for Best Actor – Television Series Musical or Comedy for his work on The Office.


You Might Like
New podcast explores how 'a billion things' went right for 'The Office' to become a hit
Steve Carell, Ricky Gervais, Stephen Merchant, John Krasinski, Jenna Fischer, Rainn Wilson and almost every other actor and key creative mind behind the success of the show are a part of "An Oral..
USATODAY.com - Published
Jon Stewart talks 'Irresistible' political twists, explains that Steve Carell face lick
Jon Stewart goes comedic with his second political movie, 'Irresistible,' which reunites him with former 'Daily Show' correspondent Steve Carell.
USATODAY.com - Published
'Space Force' trailer: Steve Carell goes all 'Apollo 13' on it in Netflix's new comedy
Steve Carell reunites with "The Office" co-creator Greg Daniels for a comedy about the military going into space, very badly.
USATODAY.com - Published
'Thanks for the deep belly laughs': Jamie Lee Curtis, Sofia Vergara mourn Fred Willard's death
Hollywood is remembering the comedic genius of Fred Willard. The actor's death prompted fond memories from stars Jamie Lee Curtis and Steve Carell.
USATODAY.com - Published
Steve Carell's 'Space Force' Netflix show will blast off in May, lands big-name co-star
Steve Carell reunites with "The Office" creator Greg Daniels in "Space Force," inspired by President Trump. The show will premiere this spring.
USATODAY.com - Published
John Krasinski reminisces about 'The Office' with Steve Carell in YouTube show debut
Good news, "The Office" fans: John Krasinski and Steve Carelll reunited (over video chat) to take a walk down Dunder Mifflin memory lane.
USATODAY.com - Published
'The Office' turns 15: All the ways NBC's quirky sitcom changed pop culture
From stars like Steve Carell and John Krasinski to all the memes, here's how "The Office" has changed pop culture in the 15 years since it premiered.
USATODAY.com - Published
Steve Carell in a dramatic new role
Steve Kroft talks with the gifted actor about the challenges of making the new film "Foxcatcher."
CBS News - Published
'Morning Show' reviews: Critics say Apple's newsroom drama is 'brutally dull,' a 'snore'
This just in! Reviews for "The Morning Show," that is. The star-studded Apple TV+ series features Jennifer Aniston, Reese Witherspoon and Steve Carell.
USATODAY.com - Published
Apple Reveals Credit Card and TV Streaming Service
by Simon Baxendale - While Apple has partially led the way up till now in terms of modern technology, there has been one major market they haven't tapped into – video streaming. However,..
One News Page Staff - Published
MOVIE REVIEW: Vice
by Graham Pierrepoint - VICE IMDb Dir: Adam McKay Starring Christian Bale, Amy Adams, Steve Carell, Sam Rockwell, Tyler Perry, Alison Pill, Jesse Plemons 4.5 STARS (out of 5) Vice was always..
One News Page Staff - Published