Quebec City
Provincial capital city in Quebec, Canada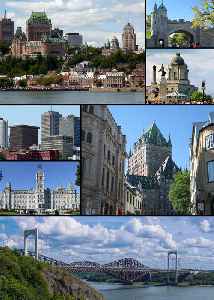 Quebec City, officially Québec, is the capital city of the Canadian province of Quebec. As of July 2016 the city had a population of 531,902, and the metropolitan area had a population of 800,296. It is the eleventh largest city and the seventh largest metropolitan area in Canada. It is also the second-largest city in the province after Montreal.


You Might Like
Coronavirus spread in Canada is slowing, hotspots remain
The spread of the novel coronavirus in Canada has slowed significantly, and 90% of the COVID-19 cases in the past two weeks have been in the provinces of Ontario and Quebec, pubic health data showed on..
Reuters - Published
In Canada's COVID-19 capital, bone-weary nurses plead for summer break
Quebec nurses and orderlies are pleading for time off this summer, ahead of a possible second wave of coronavirus infections in the fall, as Canada's hardest-hit province from the virus wrestles with a..
Reuters - Published
Canada vows changes in senior care after military shines spotlight on shortfalls
Canadian Prime Minister Justin Trudeau on Wednesday vowed to help provincial authorities revamp the country's senior care system after soldiers helping in nursing homes in Ontario and Quebec reported..
Reuters - Published
Canada's British Columbia the latest province to unveil restart plan
The Canadian province of British Columbia will unveil its plan to start reopening its economy on Wednesday, as new coronavirus cases dwindle and other parts of the country, including Quebec and..
Reuters - Published
Canada coronavirus toll rises, officials probe seniors' home deaths
The number of Canadian deaths from the new coronavirus rose by more than 12% to 674 in a day, official data showed on Sunday, and Quebec officials opened a probe into the deaths of 31 people in a..
Reuters - Published
Quebec sees coronavirus cases soar, faces equipment shortage
With more than half of Canada's coronavirus cases, Quebec has become the country's epicenter for the pandemic and could run out of some equipment in a week after missing an early opportunity to control..
Reuters - Published
Rock slides wreak havoc, close encounters with great white shark, gray whale: News from around our 50 states
Indiana boy awaiting heart transplant asking for Valentines, man charged with smuggling parrots across Quebec-Vermont border, , and more
USATODAY.com - Published
Five French tourists missing after deadly Quebec snowmobile accident
A tour guide died and five French tourists were missing after a group of snowmobilers plunged through the ice into the water near Québec's Lac-Saint-Jean Tuesday night, police said.
Reuters - Published
Quebec to put immigrants seeking residency through 'values' test
Quebec will require immigrants seeking permanent residency in the Canadian province to pass a "values" test to ensure they understand its new secularism law, the provincial government said on..
Reuters - Published
Royal Caribbean's 'Adventure of the Seas' requests help from Coast Guard off Jersey Shore
The cruise ship is on a 13-day, one-way cruise from Quebec City, Canada to Fort Lauderdale, Florida.
USATODAY.com - Published
Indiana pilot says he's lucky to be alive after crashing into Candadian mountainside
Indiana pilot Matt Lehtinen says he's lucky to be alive after his plane crash landed onto a Canadian mountainside. The father of two recorded everything he did to survive. Lehtinen was flying to Quebec..
CBS News - Published
Canada rights groups may appeal judge's decision not to stay ban on religious clothing
Two Canadian civil rights organizations said on Thursday they have been allowed to appeal a Quebec judge's decision not to stay a provincial ban..
Reuters - Published
Separatists in Canada's Quebec 'potential spoiler' for Trudeau in October poll
Separatists in the Canadian province of Quebec are making a comeback after years in the doldrums and could regain enough strength to endanger Liberal Prime Minister Justin Trudeau's bid to retain power..
Reuters - Published