Vice President of the United States
Second highest executive office in the United States government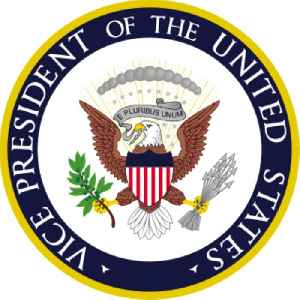 The vice president of the United States is the second-highest officer in the executive branch of the U.S. federal government, after the president of the United States, and ranks first in the presidential line of succession. The vice president is also an officer in the legislative branch, as president of the Senate. In this capacity, the vice president is empowered to preside over Senate deliberations, but may not vote except to cast a tie-breaking vote. The vice president is indirectly elected together with the president to a four-year term of office by the people of the United States through the Electoral College.


Watch why this Tamil Nadu village is adorned with posters of Kamala Harris

Posters of Kamala Harris have been up in Trichy, Tamil Nadu, days after she was nominated as the Vice Presidential nominee of the Democratic Party. The posters which wish her success have been put up..
Credit: HT Digital Content Duration: 02:17
Published
Palin's Hopes For Harris

On Tuesday, Democratic Presidential nominee Joe Biden named Kamala Harris his running mate. It's the first time since 2008 that a woman was named the Vice Presidential nominee on a major party ticket...
Credit: Wochit News Duration: 00:38
Published
Kamala Harris picked for V-P; Bengaluru violence; Sanjay Dutt's cancer update

India-origin Kamala Harris is Joe Biden's V-P pick. Bengaluru burns over a communal post, 2 dead in police firing. AI pilot unions gun for DGCA chief's head after Kerala crash. And Sanjay Dutt is..
Credit: HT Digital Content Duration: 06:21
Published
You Might Like
AP Top Stories August 20 A
Here's the latest for Thursday August 20th: Kamala Harris accepts Democratic Vice Presidential nomination; Obama blasts Trump; Trump wants sanctions back on Iran; Wildfires in California.  
USATODAY.com - Published
Progressives Didn't Want Harris for V.P. They're Backing Her Anyway.
Joe Biden's selection of Kamala Harris reaffirmed progressives' fears of a Biden administration rooted in establishment politics. But rather than revolt, many snuffed out their criticisms.
NYTimes.com - Published
What to Know About Kamala Harris, Joe Biden's V.P. Choice
Ms. Harris, a California senator who is the first woman of color to join a major party's national ticket, ran for president against Mr. Biden last year.
NYTimes.com - Published
Lobbying Intensifies Among V.P. Candidates as Biden's Search Nears an End
Two women, Representative Karen Bass and Susan Rice, the former national security adviser, are among the most formidable contenders on Joe Biden's list.
NYTimes.com - Published
Val Demings Is on Biden's V.P. List. Will Her Police Career Hurt or Help?
The former police chief in Orlando, Fla., Ms. Demings has emerged as a finalist to be Joseph R. Biden Jr.'s running mate. A review of her record shows a complicated history with episodes involving..
NYTimes.com - Published
Amid protests, Harris emerges as top contender for Biden's V.P. slot
Amid the nationwide protests over racism and police brutality, U.S. Senator Kamala Harris may have found the powerful and lasting moment that eluded her failed presidential bid but could now land her..
Reuters - Published
Bolivia's legislative assembly receives Morales resignation letter: Vice Presidential office
Bolivia's legislative assembly has received the resignation letter from Evo Morales after the leftist leader announced that he would step down on Sunday, an official at the Vice Presidential office..
Reuters - Published
"Piety & Power" author gives CBSN an inside look into Mike Pence's rise to the top of politics
The new book "Piety & Power" takes a closer look at the political rise of Vice President Mike Pence over the years. The book's author, Tom LoBianco, spoke to CBSN about the VP's career and the role..
CBS News - Published