Kate Smith
American singer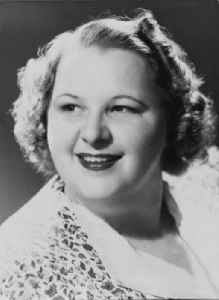 Kathryn Elizabeth Smith, known professionally as Kate Smith and The First Lady of Radio, was an American singer, a contralto, well known for her rendition of Irving Berlin's "God Bless America". She had a radio, television, and recording career spanning five decades, which reached its pinnacle in the 1940s. Smith became known as The Songbird of the South after her enduring popularity during World War II.


2020 Democrats speak out against Alabama abortion bill
Democrats running for president in 2020 are coming out against Alabama's restrictive abortion bill. The measure would virtually outlaw the procedure, without exceptions for rape and incest. CBSN..
CBS News - Published
11-year-old rape victim couldn't have abortion under new Ohio law
An 11-year-old girl in Ohio was allegedly raped by a 26-year-old multiple times, leaving her pregnant, according to police reports. A state law passed in April, but not yet in effect, says that victims..
CBS News - Published
Family "appalled" at Kate Smith statue removal
Suzie Andron, the niece of local singing legend, Kate Smith and her husband Bob, say they are "appalled" at the removal of her late aunt's statue by the Philadelphia Flyers from outside their arena...
Credit: Reuters Studio Duration: 01:17Published
Alabama considers near-total abortion ban
Alabama lawmakers got into a shouting match while debating a controversial bill that would amount to a near-total ban on abortion in the state. If passed, it will be the most restrictive ban on..
CBS News - Published
Alabama abortion fight triggers heated exchange over new amendment
Alabama's Senate could pass a near-total ban on abortion as early as next week, the most restrictive ban on abortion since the Supreme Court decided to legalize and protect the procedure nationwide..
CBS News - Published
Search this site and the web:
You Might Like