Katherine Johnson
American mathematician and physicist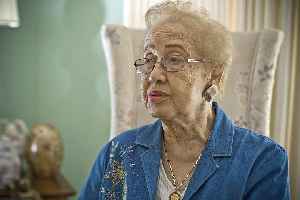 Katherine Johnson, also known as Katherine Goble, was an American mathematician whose calculations of orbital mechanics as a NASA employee were critical to the success of the first and subsequent U.S. crewed spaceflights. During her 35-year career at NASA and its predecessor, she earned a reputation for mastering complex manual calculations and helped pioneer the use of computers to perform the tasks. The space agency noted her "historical role as one of the first African-American women to work as a NASA scientist".


You Might Like
AP Top Stories February 24 P
Here's the latest for Monday, February 24: Harvey Weinsten is found guilty on two charges; Kobe Bryant is honored with a public memorial at the Staples Center; President Donald Trump visits India;..
USATODAY.com - Published
Katherine Johnson, NASA's iconic mathematician in 'Hidden Figures', dead at 101
Katherine Johnson, the venerated NASA mathematician who was the subject of the film "Hidden Figures," has died at 101.  
USATODAY.com - Published
Also reported by •Reuters
EU Ambassador Gordon Sondland expected to testify in upcoming week
The House impeachment inquiry, which burst into public view last week, is about to pick up speed. Eight witnesses, including Trump mega-donor and EU Ambassador Gordon Sondland, are expected to testify..
CBS News - Published
Former civil rights reporter Kathryn Johnson dies
Kathryn Johnson, a trailblazing reporter for The Associated Press, has died. Her intrepid coverage of the civil rights movement and other major stories led to a string of legendary scoops. She was 93...
USATODAY.com - Published
Hurricane Dorian hits North Carolina with powerful winds and torrential rain
Hurricane Dorian made landfall over Cape Hatteras, North Carolina, as a Category 1 storm with 90 mph winds and torrential rain. Authorities were concerned about hundreds of people who chose not to..
CBS News - Published
Hurricane Dorian lashes North Carolina coast
Hurricane Dorian is hitting North Carolina's coast Friday morning with high winds and torrential rain. CBS News' Katherine Johnson joined CBSN AM from Kill Devil Hills, North Carolina with what..
CBS News - Published
Trump open to importing low-cost prescription drugs
With the prices for prescription drugs getting more expensive, the Trump administration is taking steps to allow lower-cost prescriptions to be imported from Canada. But as Katherine Johnson reports,..
CBS News - Published
Former NYPD officer on investigation into Gilroy Garlic Festival shooting
At least 3 people are dead and 15 wounded after a gunman opened fire at the Gilroy Garlic Festival in California. CBS News' Katherine Johnson reports on the latest, and Bill Stanton, a retired NYPD..
CBS News - Published