Tiananmen Square
Public square in Beijing, China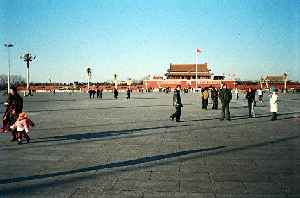 Tiananmen Square or Tian'anmen Square is a city square in the centre of Beijing, China, named after the Tiananmen located to its north, separating it from the Forbidden City. The square contains the Monument to the People's Heroes, the Great Hall of the People, the National Museum of China, and the Mausoleum of Mao Zedong. Mao Zedong proclaimed the founding of the People's Republic of China in the square on October 1, 1949; the anniversary of this event is still observed there. Tiananmen Square is within the top ten largest city squares in the world. It has great cultural significance as it was the site of several important events in Chinese history.


Hong Kong's Tiananmen museum turns online

Scores of colorful posters and shelves of books may soon disappear from the June 4th Museum in Hong Kong, which is dedicated to documenting the events which took place that fateful day in 1989 at..
Credit: Reuters Studio Duration: 02:27
Published
Hong Kong to mark Tiananmen amid China national anthem bill vote

Contentious bill adds to tension over Beijing influence in territory that is only place in China to mark 1989 crackdown.
Credit: Al Jazeera STUDIO Duration: 02:39
Published
Hong Kong passes controversial national anthem bill

Hong Kong's Legislative Council passed a bill on Thursday that would criminalize disrespect of China's national anthem, a move critics see as the latest sign of Beijing's tightening grip on the city...
Credit: Reuters - Politics Duration: 01:15
Published
You Might Like



Zoom suspends U.S.-based activists' account after Tiananmen event

Zoom Video Communications temporarily shut the account belonging to a group of U.S.-based Chinese activists after they held an event to commemorate the 31st anniversary of China's Tiananmen Square..




Reuters - Published





China says ex-soccer star's call for ouster of Communist Party is 'absurd'

China on Friday called retired soccer star Hao Haidong's remarks "absurd" after the celebrated player called for the ouster of the ruling Communist Party in a video released on Thursday, the 31st..




Reuters - Published





Dozens in Hong Kong stage pro-democracy protest in shopping mall

Dozens of Hong Kong protesters marched through a shopping mall on Friday, chanting pro-democracy slogans a day after thousands defied a police ban to hold a vigil for the anniversary of China's..




Reuters - Published





U.S. warship sails through Taiwan Strait on Tiananmen anniversary

A U.S. warship sailed through the sensitive Taiwan Strait on Thursday, the U.S. and Taiwanese militaries said, on the same day as the 31st anniversary of China's bloody crackdown on pro-democracy..




Reuters - Published





White House, on Tiananmen anniversary, urges China to respect human rights

The White House, in statement on the 31st anniversary of China's Tiananmen Square crackdown, urged Beijing on Thursday to respect human rights, fulfill its commitments on Hong Kong and end persecution..




Reuters - Published





Police pepper spray Hong Kongers defying ban to mark Tiananmen

Police pepper-sprayed some Hong Kong protesters on Thursday who defied a ban to stage candlelight rallies in memory of China's bloody 1989 Tiananmen Square democracy crackdown, accusing Beijing of..




Reuters - Published





Police fire pepper spray during Hong Kong Tiananmen memorials

Police fired pepper spray at Hong Kong protesters on Thursday who were defying a ban to stage candlelit rallies in memory of China's 1989 Tiananmen Square democracy crackdown while accusing Beijing of..




Reuters - Published





Hong Kong police fire pepper spray to disperse Tiananmen protesters

Police fired pepper spray to disperse protesters who gathered in Hong Kong's working class district of Mong Kok on Thursday night to mark the 31st anniversary of China's bloody crackdown on democracy..




Reuters - Published





Factbox: What people said in Hong Kong on Tiananmen anniversary

People in Hong Kong commemorated on Thursday the bloody 1989 democracy crackdown by Chinese troops at Tiananmen Square by lighting candles, after police banned the annual vigil citing coronavirus..




Reuters - Published





Defying police ban, Hong Kongers hold Tiananmen candle memorial

Thousands defied a police ban to gather with candles in Hong Kong on Thursday to mark China's bloody Tiananmen Square democracy crackdown in 1989 and accuse Beijing of stifling freedoms too on their..




Reuters - Published





Hong Kongers to mark Tiananmen anniversary with 'candles everywhere', online vigil

People in Hong Kong planned to light candles across the city on Thursday to commemorate the bloody 1989 crackdown by Chinese troops in and around Tiananmen Square, circumventing a ban imposed on the..




Reuters - Published




Protest disrupts Hong Kong legislative debate over China national anthem bill

Police and firefighters entered Hong Kong's legislature on Thursday after two pro-democracy lawmakers threw foul-smelling liquid to protest against China's "murderous" crackdown by Chinese troops in..




Reuters - Published





Today in History for June 4th

Highlights of this day in history: Chinese troops crush a pro-democracy movement in Beijing's Tiananmen Square; World War II's Battle of Midway begins; Henry Ford tests his quadricycle; Bruce..




USATODAY.com - Published





Candles to light up Hong Kong on fraught Tiananmen anniversary

Many people in Hong Kong plan to commemorate the bloody 1989 crackdown by Chinese troops in and around Tiananmen Square by lighting candles across the city on Thursday, circumventing a ban on the usual..




Reuters - Published





Vigil banned, Hong Kong set to commemorate Tiananmen with 'candles everywhere'

People in Hong Kong are set to commemorate the bloody 1989 crackdown by Chinese troops in and around Tiananmen Square by lighting candles across the city on Thursday, after police banned an annual..




Reuters - Published





Timeline: From reform hopes to brutal crackdown - China's Tiananmen protests

Thursday marks 31 years since China bloodily suppressed pro-democracy demonstrations in and around central Beijing's Tiananmen Square, when Chinese troops opened fire on their own people.




Reuters - Published





Timeline: China's post-Tiananmen re-emergence onto the world

Thursday marks the anniversary of when China bloodily suppressed pro-democracy demonstrations in and around central Beijing's Tiananmen Square, when Chinese troops opened fire on their own people.




Reuters - Published





Hong Kong must be free to mark Tiananmen crackdown, EU says

China must allow the people of Hong Kong and Macau to commemorate the bloody 1989 Tiananmen Square crackdown on pro-democracy demonstrators in Beijing, the European Union said on Wednesday, despite..




Reuters - Published





Taiwan calls on China to apologise for Tiananmen crackdown, Beijing cries 'nonsense'

Taiwan called on China on Wednesday to apologise for the bloody 1989 Tiananmen Square crackdown on pro-democracy demonstrators in Beijing, a call dismissed as "nonsense" by China's foreign ministry.




Reuters - Published





'I can't be silent': Hong Kong people aim to mark Tiananmen despite ban

Many Hong Kong people will find their own way to mark the 31st anniversary of Chinese troops opening fire on protesters in and around Tiananmen Square, after an annual candlelight vigil was cancelled..




Reuters - Published





Coronavirus News: Live Updates

"You see mass gatherings that could potentially be infecting hundreds and hundreds of people after everything we have done," New York's governor said. Hong Kong has banned an annual Tiananmen..




NYTimes.com - Published




Tiananmen June 4 vigil organiser calls for candles to be lit across Hong Kong

Hong Kong people, unable to hold a mass vigil due to coronavirus curbs, should light candles instead to commemorate pro-democracy protesters killed in and around Beijing's Tiananmen Square 31 years..




Reuters - Published




Hong Kong extends coronavirus group restrictions, Tiananmen vigil at risk

Hong Kong on Tuesday extended a restriction on public gatherings for at least another two weeks as authorities still report new coronavirus cases occasionally, in a move that threatens the city's..




Reuters - Published





New work by Chinese dissident artist shows support for Hong Kong protests

A new work by Chinese dissident artist Badiucao in support of Hong Kong pro-democracy protesters shows the image of a lone man standing in the path of a tank taken on Tiananmen Square in 1989.




Reuters - Published





With Hong Kong Human Rights and Democracy Act, U.S. Congress stands up to China

President Trump, sign the financial incentives to persuade Beijing to de-escalate protests, rather than strike a Tiananmen-like crackdown: Our view




USATODAY.com - Published





Tom Brokaw: Yesterday, "Today" and tomorrow

For five decades journalist and storyteller Tom Brokaw served as a pillar of NBC News, reporting from such hotspots as Tiananmen Square and the Berlin Wall. His 1998 book, "The Greatest Generation,"..




CBS News - Published





Sunday Journal: Tiananmen Square, 30 years later

The Beijing massacre in which hundreds, perhaps thousands of protesters died at the hands of the army has been erased from Chinese history. Elizabeth Palmer visits the site of the crackdown three..




CBS News - Published





The Tiananmen Papers

Mike Wallace reports on transcripts, kept secret for 11 years before being smuggled out of Beijing, which reveal internal dissent at the highest levels of the Chinese government during the 1989 student..




CBS News - Published





Hong Kong violence escalates as China marks 70 years of communist rule

Protesters eye Beijing as China's government prepares National Day celebration with military display in Tiananmen Square




CBS News - Published





Voices from Hong Kong: Lawmaker Caudia Mo

Claudia Mo is a former journalist who covered the 1989 Tiananmen Square massacre in Beijing. Since then she has become a popularly elected member of Hong Kong's legislature.




CBS News - Published





Sunday Journal: Hong Kong's pro-democracy protests

Despite concessions from the government, the months-long movement in which millions have marched shows no signs of letting up – even while carrying the memory of Tiananmen Square




CBS News - Published





Li Peng, hardline Chinese leader in Tiananmen crackdown, dies at 90

Former Chinese Premier Li Peng, reviled by rights activists and many in the Chinese capital as the "Butcher of Beijing" for his role in the 1989 Tiananmen Square crackdown, has died, state media..




Reuters - Published





China's former hardline premier, Li Peng, dies at 90

Former Chinese Premier Li Peng, reviled by rights activists and many in the Chinese capital as the "Butcher of Beijing" for his role in the 1989 Tiananmen Square crackdown, has died, state media..




Reuters - Published




Chinese activists seek U.N. investigation into Tiananmen crackdown

More than 20 Chinese activists who took part in the Tiananmen Square pro-democracy movement called on Monday on the United Nations' top human rights body to investigate Beijing's deadly crackdown 30..




Reuters - Published





Violence breaks out in Hong Kong over extradition bill debate

Barely one week after the 30th anniversary of the Tiananmen Square massacre, the world is starting to focus on another massive public protest by young people in China. This time it's in Hong Kong where..




CBS News - Published





"Tank Man" photographer reflects on 30 years since Tiananmen Square

It's been 30 years since Chinese soldiers tore through protesters on Tiananmen Square. Despite government efforts to erase the clash from the nation's modern history, the iconic "Tank Man" photo has..




CBS News - Published





Tiananmen Square student leader reflects on the deadly clash 30 years later

Chinese soldiers massacred protesters in Beijing's Tiananmen Square three decades ago, putting an end to demonstrations that called for political freedom. Now some activists are fighting to keep the..




CBS News - Published




Canada says it has real concerns over China's human rights, Beijing protests

Canadian Prime Minister Justin Trudeau marked the 30th anniversary of the Tiananmen Square crackdown on Tuesday by expressing "real concerns" about China's human rights record, prompting a swift..




Reuters - Published




'Tank Man' statue unveiled at DC Tiananmen rally

A foundation dedicated to memorializing victims of communism marked the 30th anniversary of the Tiananmen Square massacre by unveiling a statue of the iconic "Tank Man" during a rally in Washington,..




USATODAY.com - Published





Remembering the Tiananmen Square Massacre on it's 30th Anniversary

On June 4, 1989, Chinese troops opened fire on a crowd of student demonstrators in Beijing's Tiananmen Square.




USATODAY.com - Published





Tiananmen Square protesters recount massacre 30 years later

The world is marking 30 years since the Tiananmen Square massacre in Beijing, when Chinese troops opened fire on pro-democracy demonstrations in 1989. Now, China has censored all mention of the..




CBS News - Published




Hong Kong holds somber Tiananmen vigil as Beijing goes into lockdown

Tens of thousands joined a somber candlelight vigil in Hong Kong on Tuesday to mark the 30th anniversary of Chinese troops opening fire on student-led democracy protesters in and around Tiananmen..




Reuters - Published





Dissident Chinese cartoonist shows his face on Tiananmen anniversary

One of China's most prominent political cartoonists who has hidden his identity for years to avoid reprisals from the state revealed his face publicly on Tuesday to mark the 30th anniversary of..




Reuters - Published





Pompeo's Tiananmen Square anniversary remarks draw fire from China

Top U.S. diplomat lauded "heroes" who demanded democracy 30 years ago and suffered for it, and that doesn't jibe with Beijing's rewritten version of history




CBS News - Published





Tiananmen Square survivor reflects 30 years later: "I'm heartbroken"

CBS News returned to Tiananmen Square 30 years later to find the conflict's bloody history erased by modern China




CBS News - Published




Arrests, threats reported ahead of China's Tiananmen anniversary: U.N.

The United Nations human rights office told Reuters on Tuesday that it had received reports alleging that a number of Chinese citizens had been detained or threatened ahead of the 30th anniversary of..




Reuters - Published





EU still mourns Tiananmen crackdown victims: spokeswoman

The European Union continues to mourn the victims of the Chinese government's deadly crackdown on protesters in Beijing's Tiananmen Square 30 years ago, the EU executive said on Tuesday.




Reuters - Published





Your Tuesday Briefing

London, Tiananmen Square, Apple: Here's what you need to know.




NYTimes.com - Published





Trump meets with Theresa May, Tiananmen Square protests 30 years later: 5 things to know Tuesday

President Donald Trump meets with Britain's Prime Minister Theresa May, Tiananmen Square protests 30 years later and more things to start your Tuesday.




USATODAY.com - Published