Chris Wallace
American journalist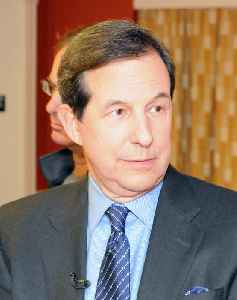 Christopher W. Wallace is an American television anchor and journalist who is the news anchor of the Fox News program Fox News Sunday. He worked for NBC (1975–1988) as a White House correspondent and anchor for NBC Nightly News and host of Meet the Press. He also worked for ABC as an anchor for Primetime Thursday and Nightline (1989–2003), before joining Fox. Wallace is the only person to have served as host and moderator of more than one of the major U.S. political Sunday morning talk shows, which he did during his time at NBC. Wallace has won a Peabody Award, three Emmy Awards, the duPont–Columbia Silver Baton Award, and a Paul White lifetime achievement award.


You Might Like
Mnuchin says GOP coronavirus relief package will be released Monday
Fox News host Chris Wallace pressed Mnuchin on why a GOP plan hasn't been introduced.
USATODAY.com - Published
'I don't think I'm fake news': Highlights from Chris Wallace's contentious interview with Trump
The Fox News host clashed with Trump on several occasions as he tried to correct the president on some key facts.
USATODAY.com - Published
Trump Leans Into False Virus Claims in Chris Wallace Interview
The president grew agitated as he was fact-checked on polling, race relations and the coronavirus response by Chris Wallace of Fox News.
NYTimes.com - Published
'Sir, he does not': Fox's Chris Wallace fact-checks Trump's claim that Biden supports defunding the police
"Oh really? It says abolish, it says defund. Let's go! Get me the charter, please," Trump said after Wallace fact-checked him.
USATODAY.com - Published
'You can't do that': Fox News host Wallace confronts DeVos on threat to redirect funds from schools
Chris Wallace asked Betsy DeVos "under what authority" she and Trump were going to "unilaterally cut off funding" to schools that refuse to reopen.
USATODAY.com - Published
Donald Trump again hits Fox News – and Chris Wallace – this time over impeachment coverage
President Trump adds to his list of grievances against Fox News, once his favorite source of information.
USATODAY.com - Published
Trump tears into 'nasty & obnoxious' Fox News host Chris Wallace for 'dumb' interview on impeachment
Though Trump has praised Fox News as the only news network he thinks treats him fairly, he has also bristled at any coverage he thinks is negative.
USATODAY.com - Published
'You said what you said': Fox News' Chris Wallace rejects Mulvaney's attempt to walk back Ukraine comments
"No, you totally said that," Chris Wallace said after Mick Mulvaney denied admitting there had been a "quid pro quo" in aid to Ukraine.
USATODAY.com - Published
"Mike Wallace is here"
Four words that struck terror into the hearts of shady businessmen and corrupt politicians – "Mike Wallace is here" – also comprise the title of a new documentary that depicts the dramatic life and..
CBS News - Published
Fox News host Chris Wallace tells Stephen Miller: 'No question' Trump is 'stoking racial divisions'
"I've never called any of his tweets racist, but there's no question that he is stoking racial divisions," said "Fox News Sunday" host Chris Wallace.
USATODAY.com - Published
Chris Wallace on Mike Wallace stealing interviews
In this web exclusive, Chris Wallace, host of "Fox News Sunday," talks with Rita Braver about his father, legendary CBS newsman Mike Wallace, whose competitiveness for interviews stretched even to..
CBS News - Published