Chris Wallace
American journalist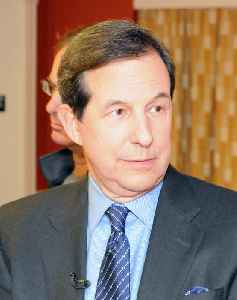 Christopher W. Wallace is an American television anchor and political commentator who is the host of the Fox Broadcasting Company/Fox News program Fox News Sunday. He worked for NBC between 1975–1989, and ABC between 1989–2003, before joining Fox. Wallace is the only person to have served as host and moderator of more than one of the major American Sunday morning political talk shows, which he did during his time at NBC. Wallace has won three Emmy Awards, the Dupont-Columbia Silver Baton Award, and a Paul White lifetime achievement award.


Donald Trump again hits Fox News – and Chris Wallace – this time over impeachment coverage
President Trump adds to his list of grievances against Fox News, once his favorite source of information.
USATODAY.com - Published
Trump tears into 'nasty & obnoxious' Fox News host Chris Wallace for 'dumb' interview on impeachment
Though Trump has praised Fox News as the only news network he thinks treats him fairly, he has also bristled at any coverage he thinks is negative.
USATODAY.com - Published
'You said what you said': Fox News' Chris Wallace rejects Mulvaney's attempt to walk back Ukraine comments
"No, you totally said that," Chris Wallace said after Mick Mulvaney denied admitting there had been a "quid pro quo" in aid to Ukraine.
USATODAY.com - Published
"Mike Wallace is here"
Four words that struck terror into the hearts of shady businessmen and corrupt politicians – "Mike Wallace is here" – also comprise the title of a new documentary that depicts the dramatic life and..
CBS News - Published
Fox News host Chris Wallace tells Stephen Miller: 'No question' Trump is 'stoking racial divisions'
"I've never called any of his tweets racist, but there's no question that he is stoking racial divisions," said "Fox News Sunday" host Chris Wallace.
USATODAY.com - Published
Chris Wallace on Mike Wallace stealing interviews
In this web exclusive, Chris Wallace, host of "Fox News Sunday," talks with Rita Braver about his father, legendary CBS newsman Mike Wallace, whose competitiveness for interviews stretched even to..
CBS News - Published
You Might Like