Connecticut
State of the United States of America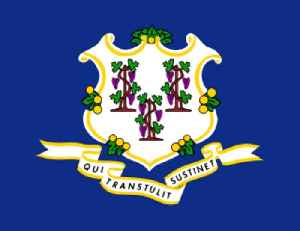 Connecticut is the southernmost state in the New England region of the United States. As of the 2010 Census, it has the highest per-capita income, Human Development Index (0.962), and median household income in the United States. It is bordered by Rhode Island to the east, Massachusetts to the north, New York to the west, and Long Island Sound to the south. Its capital is Hartford and its most populous city is Bridgeport. It is part of New England, although portions of it are often grouped with New York and New Jersey as the tri-state area. The state is named for the Connecticut River which approximately bisects the state. The word "Connecticut" is derived from various anglicized spellings of an Algonquian word for "long tidal river".


Bria Holmes scores 17 points, Connecticut routs Atlanta
Bria Holmes scored 17 points and the Connecticut Sun routed the Atlanta Dream 98-69 for their third straight victory
USATODAY.com - Published
J.T. Lewis, brother of young Sandy Hook hero, running for state Senate in Connecticut
The brother of a child killed in the Sandy Hook school massacre is running for the Connecticut Senate, saying politicians have failed to curb violence.  
USATODAY.com - Published
Emmy Winner Rip Torn Dies At 88
Actor Rip Torn has died at age 88. Torn was nominated for the Emmy six times — winning once — for his role on "The Larry Sanders Show" (1992-1998). THR reports the actor died Tuesday at his..
Credit: Wochit News Duration: 00:32Published
Salmonella Outbreak Connected To Papayas
If you're a fan of papayas, you may want to skip Cavi brand papayas until further notice. UPI reports that a Cavi brand of papayas "are likely the source" of a salmonella outbreak. According to The..
Credit: Wochit News Duration: 00:45Published
How Much Do You Have To Spend On A Wedding Venue These Days?
Business Insider took a deep dive into the costs of weddings across America. On average, couples spend $33,391 on their entire wedding, and a large chunk of that price tag is the cost of the wedding..
Credit: Wochit News Duration: 00:45Published
Plane crashes into side of house
An electric glider crashed into the roof of a house in a residential neighbourhood in Danbury, Connecticut on Tuesday. The pilot who was flying the glider is reported by the city's mayor to have..
Credit: PA - Press Association STUDIO Duration: 00:35Published
Missing mom's estranged husband, girlfriend arrested
Police have arrested the estranged husband of missing Connecticut mom, Jennifer Dulos, and his girlfriend as the search continues. Linda So reports.
Credit: Reuters Studio Duration: 01:11Published
Fireflies that blink in sync draw swarms of tourists
Fireflies, the unofficial mascot of summer, are powering an eco-tourism boom in U.S. rural towns, where rare species that synchronize their flashings draw sell-out crowds of spectators from around the..
Credit: Reuters Studio Duration: 02:20Published
Fugitive Agrees To Turn Self In Once Facebook Post Gets 15,000 'Likes'
In Connecticut, social media may actually help get a wanted man into police custody. The Torrington Police Department said Jose Simms, who is wanted on several outstanding warrants, has agreed to turn..
Credit: Wochit News Duration: 00:53Published
Bear cub has a ball on family's swing set
A Connecticut family was surprised to see a bear cub playing with a swing set in their backyard.
USATODAY.com - Published
Brother of Sandy Hook victim running for Connecticut state senate
"To honor Jesse, I've decided to be courageous enough to run for state Senate," J.T. Lewis said in his campaign rollout
CBS News - Published
Sandy Hook parents lose state court appeal against Newtown over school shooting
A Connecticut state appeals court has rejected an appeal by the parents of two shooting victims of the 2012 Sandy Hook massacre to hold the town of Newtown and its school district liable.
Reuters - Published
Search this site and the web:
You Might Like