Cougar
Large cat of the family Felidae native to the Americas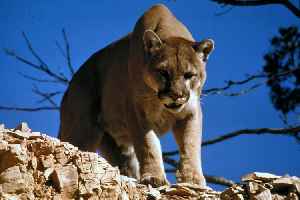 The cougar, also commonly known by other names including mountain lion, panther, puma, and catamount, is a large felid of the subfamily Felinae native to the Americas. Its range, from the Canadian Yukon to the southern Andes of South America, is the widest of any large wild terrestrial mammal in the Western Hemisphere. An adaptable, generalist species, the cougar is found in most American habitat types. It is the biggest cat in North America, and the second-heaviest cat in the New World after the jaguar. Secretive and largely solitary by nature, the cougar is properly considered both nocturnal and crepuscular, although daytime sightings do occur. The cougar is more closely related to smaller felines, including the domestic cat, than to any species of subfamily Pantherinae, of which only the jaguar is native to the Americas.


Panthers with mysterious health disorder catch Florida officials' attention
Several panthers and bobcats in Florida appear to have developed a mysterious disorder, and it's catching the attention of wildlife officials. The animals have been spotted struggling to walk properly..
CBS News - Published
Panthers are struggling to walk and officials don't know why
Trail footage shows kittens stumbling and falling down, as if unable to control their hind legs
CBS News - Published
The Republican Ticket, Bastille Day Tragedy, Mountain Lions of L.A.
Donald Trump and Gov. Mike Pence speak to Lesley Stahl in their first joint interview; Seth Doane reports from Nice, France; and, Bill Whitaker reports on the big cats some L.A. residents are calling..
CBS News - Published
Search this site and the web:
You Might Like