University of Alabama
Public university located in Tuscaloosa, Alabama, United States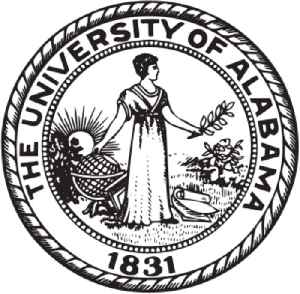 The University of Alabama is a public research university in Tuscaloosa, Alabama. Established in 1820, the University of Alabama is the oldest and largest of the public universities in Alabama as well as the flagship of the University of Alabama System. The university offers programs of study in 13 academic divisions leading to bachelor's, master's, education specialist, and doctoral degrees. The only publicly supported law school in the state is at UA. Other academic programs unavailable elsewhere in Alabama include doctoral programs in anthropology, communication and information sciences, metallurgical engineering, music, Romance languages, and social work.


"Baby Trump" balloon flies at Florida rally
A similar version of the provocative balloon was slashed open with a knife​​ earlier this month during the president's visit to a University of Alabama football game​.
CBS News - Published
On the Scoreboard: The Home Team, the Visitors and Trump
The president's visit to the University of Alabama, in the thick of an impeachment inquiry, was not without the usual controversy over whether he'd be booed or not.
NYTimes.com - Published
Trump gets warm welcome in Alabama
A video shared on social media by an attendee shows crowds cheering and a "Four more years!" chant can be heard as President Donald Trump attends a University of Alabama versus Louisiana State football..
Credit: Reuters - Politics Duration: 00:31Published
60 Minutes, behind the scenes with Alabama's Nick Saban
While shooting a profile of University of Alabama coach Nick Saban, a 60 Minutes team was extra diligent: they didn't want to get "Sabaned"
CBS News - Published
Former NBA, Alabama player Jim Farmer faces human trafficking charge in Tennessee
Jim Farmer, who played six seasons in the NBA and was a University of Alabama standout, was arrested on human trafficking charge in Tennessee.
USATODAY.com - Published
'Show Us You Are Not Racist': Students Demand Answers After Dean's Resignation
A black dean at the University of Alabama resigned after old tweets were recirculated, a move that prompted a sit-in at the president's office, a letter of admonishment and a reckoning.
NYTimes.com - Published
University of Alabama rejects $26.5M from donor critical of abortion ban
University trustees claim an "ongoing dispute" over the way the money was to be handled is what led to their decision
CBS News - Published
He told students to protest Alabama's abortion ban. The University returned his $21.5M gift.
The University of Alabama may return a philanthropist's donation after he called on students to protest the state's abortion ban.
USATODAY.com - Published
You Might Like