Montevideo
Capital and chief port of Uruguay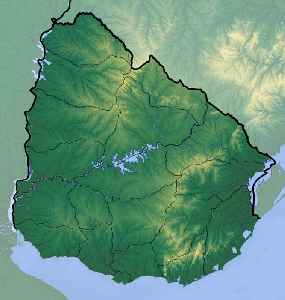 Montevideo is the capital and largest city of Uruguay. According to the 2011 census, the city proper has a population of 1,319,108 in an area of 201 square kilometres (78 sq mi). The southernmost capital city in the Americas, Montevideo is situated on the southern coast of the country, on the northeastern bank of the Río de la Plata.


You Might Like
In Brazil's shadow, laid-back Uruguay curbs COVID-19
Leonardo Silveira, a bookstore owner in Montevideo, is hopeful about the future as Uruguay begins a gradual reopening. The small country has kept rates of COVID-19 at one of the lowest levels in Latin..
Reuters - Published
Uruguay transports Australians, New Zealanders from virus-hit cruise ship
Uruguay started on Friday to repatriate 112 Australians and New Zealanders from a cruise ship hit by coronavirus and stranded in the La Plata River near the capital of Montevideo since March 27, the..
Reuters - Published
Italian 'cocaine king,' mob boss escapes from Uruguay prison with 3 others
Rocco Morabito, nicknamed the "cocaine king of Milan," escaped from a prison in Montevideo, Uruguay, the country's interior ministry said.
USATODAY.com - Published
Search this site and the web: