Nicaragua
Country in Central America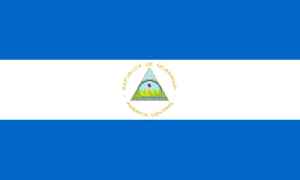 Nicaragua, officially the Republic of Nicaragua, is the largest country in the Central American isthmus, bordered by Honduras to the northwest, the Caribbean to the east, Costa Rica to the south, and the Pacific Ocean to the southwest. Managua is the country's capital and largest city and is also the third-largest city in Central America, behind Tegucigalpa and Guatemala City. The multi-ethnic population of six million includes people of indigenous, European, African, and Asian heritage. The main language is Spanish. Indigenous tribes on the Mosquito Coast speak their own languages and English.


U.S. citizen shot dead in Nicaraguan prison was a Navy veteran, critic of President Ortega
Eddy Montes, a protestor shot dead in a Nicaragua prison this week, was a naturalized U.S. citizen who served in the Navy, but ultimately returned to the Central American country where he fought for a..
Reuters - Published
Mayor and 'Foreign Minister': How Bernie Sanders Brought the Cold War to Burlington
Referendums, rallies, a trip to Nicaragua — all were part of his effort to infuse left-wing activism into local politics.
NYTimes.com - Published
Is Joe Biden His Own Worst Enemy?
Joe Biden is set to run for President. Politico is speculating that Biden's worst enemy may be Joe Biden himself. Biden is carrying with him nearly a half a century in the major leagues of American..
Credit: Wochit News Duration: 00:52Published
Nicaragua remembers: Anniversary of mass protests
Easter processions see people remember those who died during protests against President Daniel Ortega.
Credit: Al Jazeera STUDIO Duration: 02:22Published
Fleeing poverty and persecution, Nicaraguans seek better lives
The Latin American country's problems are no longer just political as it falls into the worst economic slump in three decades.
Credit: Al Jazeera STUDIO Duration: 02:44Published
Nicaragua protests: One year anniversary march halted
Hundreds of police filled the streets in Managua hours before the march was set to begin.
Credit: Al Jazeera STUDIO Duration: 02:17Published
Future unclear for Nicaragua's political prisoners
More than 200 people remain in jail, a year after protests against President Daniel Ortega.
Credit: Al Jazeera STUDIO Duration: 02:40Published
Some Achievable Fixes To The Asylum System
Managing the growing numbers of asylum claims on the southern border is only becoming more challenging.
Credit: Newsy Studio Duration: 02:17Published
Judge Blocks Temporary Protected Status Changes for Haitians
A New York district judge says there was enough evidence to believe the change in policy could be discriminatory.
Credit: Newsy Studio Duration: 00:57Published
Prince Charles and Camilla visit Cuba despite U.S. crackdown
The couple are the first British royals to visit the the Communist-run nation. Rough cut (no reporter narration)
Credit: Reuters Studio Duration: 00:56Published
U.S. citizen arrested during protests in Nicaragua killed in prison shooting
The Nicaraguan government said on Thursday a man arrested in May last year during months of anti-government protests was killed in a shooting at the prison near Managua where he was being held.
Reuters - Published
Search this site and the web:
You Might Like