Johannesburg
Place in Gauteng, South Africa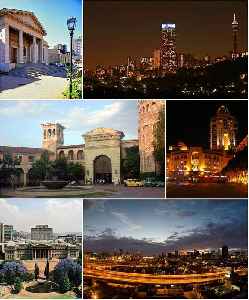 Johannesburg, informally known as Jozi, Joburg or "the city of gold", is the largest city in South Africa and one of the 50 largest urban areas in the world. It is the provincial capital and largest city of Gauteng, which is the wealthiest province in South Africa. Johannesburg is the seat of the Constitutional Court. The city is located in the mineral-rich Witwatersrand range of hills and is the centre of large-scale gold and diamond trade. It was one of the host cities of the official tournament of the 2010 FIFA World Cup.


South Africans play vuvuzelas for medical workers nightly

Johannesburg resident Marie-Claire Willys and her family are joining fellow South Africans by playing vuvuzelas and cheering every night at 7pm to show solidarity for the country's medical workers amid..
Credit: Reuters - Viral Video Duration: 01:34
Published
Mixed results as S. Africa enters 21-day lockdown

South Africans woke up under lockdown on Friday, struggling to adapt to some of the toughest restrictions in the world as the country recorded its first coronavirus deaths and confirmed cases rose..
Credit: Reuters Studio Duration: 01:21
Published
You Might Like
Three AngloGold Ashanti miners dead after rockfall at Mponeng mine
AngloGold Ashanti on Friday found the bodies of three miners after a 2 magnitude earthquake caused an underground rockfall at its Mponeng gold mine 76 km (47 miles) from Johannesburg.
Reuters - Published
South African photographer of 'black lives' Santu Mofokeng dies aged 63
South African photographer Santu Mofokeng, known for his piercing black-and-white pictures of African life in Johannesburg townships during apartheid, died on Sunday aged 63, his family said.
Reuters - Published
Security worker killed in attempted robbery at Harmony Gold plant in South Africa
A security contractor was killed on Friday in an attempted armed robbery on a Harmony Gold plant west of Johannesburg, the latest fatal incident at a mining company in South Africa.
Reuters - Published
Why have great white sharks completely disappeared from Cape Town's False Bay?
Great white sharks have disappeared off the coast of Cape Town, South Africa. There have been zero shark sightings in False Bay this year and only around 50 last year. Analysts said the great whites..
CBS News - Published
Laura Ferreira's sustainable fashion
Designer Laura Ferreira showcases a 100 percent natural collection at South Africa Fashion Week in Johannesburg. (Oct. 24)  
USATODAY.com - Published
Britain's Prince Harry and wife Meghan to visit South African township
Britain's Prince Harry and his wife Meghan will tour a Johannesburg township on Wednesday before meeting President Cyril Ramaphosa and Nelson Mandela's widow on a busy final day of their tour across..
Reuters - Published
'I can't screw up': Duchess Meghan breaks speech to check notes during solo Johannesburg visit
During a solo visit to Johannesburg as part of her tour of southern Africa, Duchess Meghan made a rare move to check her notes during a speech.
USATODAY.com - Published
Britain's Prince Harry to touch down in Malawi
Britain's Prince Harry is due to arrive in Malawi on Sunday, the final stop in his solo tour across southern Africa before rejoining his wife Meghan and four-month-old son Archie in Johannesburg.
Reuters - Published
South African police make more arrests as riots spread
South African police arrested more than 80 people and confirmed five deaths as riots in Johannesburg and the capital Pretoria intensified on Tuesday, spreading to surrounding townships with roving..
Reuters - Published
Johannesburg power body hit by ransomware attack
City Power, responsible for powering South Africa's financial capital Johannesburg, said on Thursday it had been hit by a ransomware virus that had encrypted all of its databases, applications and..
Reuters - Published