Zoe Lofgren
American politician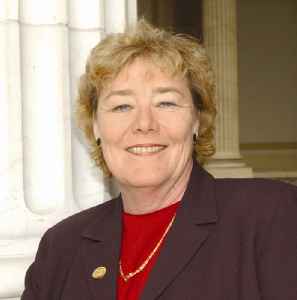 Susan Ellen "Zoe" Lofgren is an American politician serving as a U.S. Representative from California. A member of the Democratic Party, Lofgren is in her 13th term as a congresswoman, serving since 1994.


House managers cite the silence at the top of the State Dept.
Representative Zoe Lofgren zeroed in on the failure of Secretary of State Mike Pompeo and one his top advisers, T. Ulrich Brechbuhl, to answer subpoenas.
NYTimes.com - Published
In describing Trump's actions, Democrats hold up Nixon as transparent.
Representative Zoe Lofgren seemed to relish comparing Nixon's direction to his administration during Watergate with what White House lawyers said in an October letter about the current inquiry.
NYTimes.com - Published
Ordering witnesses not to testify is 'obstruction, plan and simple' -Lofgren
U.S. representative Zoe Lofgren on Friday argued during the Senate impeachment trial that President Donald Trump's order to top U.S. officials not to testify before the U.S. House of Representatives is..
Credit: Reuters Studio Duration: 02:07Published
Impeachment veteran makes case for evidence
Democratic Congresswoman Zoe Lofgren, the only member of Congress to work on both the Nixon and Clinton impeachment hearings, on Tuesday made the case for evidence to be produced by the White House for..
Credit: Reuters Studio Duration: 01:35Published
Who Are The Dems Prosecuting Trump?
Nancy Pelosi has announced the Democrats who will prosecute President Donald Trump's impeachment case. Politico says the Democrats, all congressmen, will be managers of the impeachment case. Who made..
Credit: Wochit News Duration: 00:43Published
House manager says the president's trial is 'not a joyful moment for me.'
Representative Zoe Lofgren and her fellow managers will be arguing Tuesday over the trial rules with Mr. Trump's defense team.
NYTimes.com - Published
Who is Zoe Lofgren? Impeachment Manager is a Veteran of Two Inquiries
In choosing Ms. Lofgren, Speaker Nancy Pelosi put a seasoned, even-tempered ally on the team that will prosecute the House's case in the Senate.
NYTimes.com - Published
What's Ahead for PG&E?
Thursday: A look at the moving pieces in the utility's bankruptcy. Also: Zoe Lofgren, and a historic marionette theater.
NYTimes.com - Published
From Nixon to Trump, Zoe Lofgren Is Democrats' Memory on Impeachment
Ms. Lofgren, Democrat of California, is the lone Judiciary Committee member to have participated in all three modern impeachments.
NYTimes.com - Published
You Might Like