Kyrie Irving
American basketball player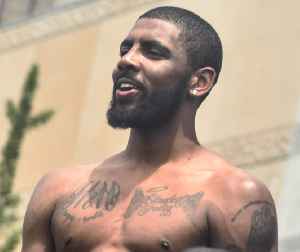 Kyrie Andrew Irving is an American professional basketball player for the Boston Celtics of the National Basketball Association (NBA). He was named NBA Rookie of the Year after being selected by the Cleveland Cavaliers with the first overall pick in the 2011 NBA draft. A six-time NBA All-Star, Irving was selected to the All-NBA Third Team in 2015. He won an NBA championship with the Cavaliers in 2016.


Embiid gets 37 and 22 to lead 76ers past Celtics 118-115
Joel Embiid had 37 points, 22 rebounds and a key block on Kyrie Irving with 35 seconds remaining, and Jimmy Butler scored 15 of his 22 points in the fourth quarter to lead the Philadelphia 76ers over..
USATODAY.com - Published
Irving, Celtics survive late charge by Hawks in 129-120 win
Kyrie Irving just missed his second straight triple-double with 30 points, 11 rebounds and nine assists, Jaylen Brown scored 23 points with a key 3-pointer and the Boston Celtics held off the Atlanta..
USATODAY.com - Published
Can Kevin Durant And Kyrie Irving Handle New York?
This week, Charles Barkley said that he didn't think that Kyrie Irving and Kevin Durant were not tough enough to handle the New York media. Crossover TV discusses whether the concept of the "big bad..
Credit: Sports Illustrated Duration: 02:27Published
Kyrie Irving Has Reportedly Become 'Disengaged And Detached' As The Celtics Fall Apart
The main focus of the Boston Celtics' rocky, up-and-down season has been the goings-on of Kyrie Irving. The Celtics appear to have hit a new low, losing five of their last six games and seven of their..
Credit: Wochit News Duration: 00:47Published
Kyrie Irving Says He Doesn't Play Basketball to 'Be a Celebrity'
Kyrie Irving recently told reporters that he "didn't really come into to this game to be cameras in my face, be famous, be a celebrity, whatever embodies that." Is there any truth in Uncle Drew's..
Credit: Sports Illustrated Duration: 01:40Published
Who Said It: Kyrie or LeBron?
In this edition of Crossover TV's "Who Said It?", Rohan Nadkarni and guest co-host Clay Skipper guess who said the trash-talking quote about their own team.: Kyrie or LeBron?
Credit: Sports Illustrated Duration: 04:02Published
Does Kyrie Irving's Talent Outweigh the Drama He Creates?
As Boston's struggles linger, Kyrie Irving's postgame comments continue to generate controversy. SI Now's Robin Lundberg and Ryan Asselta debate if Irving's ability really outweighs all the drama he's..
Credit: Sports Illustrated Duration: 01:31Published
Irving's triple-double leads Celtics past Kings 126-120
Kyrie Irving had 31 points, 12 assists and 10 rebounds to help the Boston Celtics overcome a 17-point first-half deficit and beat the Sacramento Kings 126-120
USATODAY.com - Published
Search this site and the web:
You Might Like