Microsoft
U.S.-headquartered technology company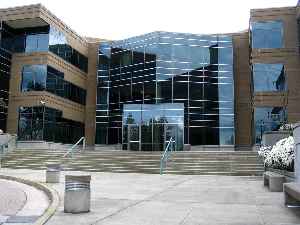 Microsoft Corporation is an American multinational technology company with headquarters in Redmond, Washington. It develops, manufactures, licenses, supports and sells computer software, consumer electronics, personal computers, and related services. Its best known software products are the Microsoft Windows line of operating systems, the Microsoft Office suite, and the Internet Explorer and Edge Web browsers. Its flagship hardware products are the Xbox video game consoles and the Microsoft Surface lineup of touchscreen personal computers. As of 2016, it is the world's largest software maker by revenue, and one of the world's most valuable companies. The word "Microsoft" is a portmanteau of "microcomputer" and "software". Microsoft is ranked No. 30 in the 2018 Fortune 500 rankings of the largest United States corporations by total revenue.


Goldman Sachs is sounding the alarm: Tech stocks are overvalued
Tech stocks – and software ones in particular – have had a big year, with Microsoft's stock price jumping 30% in 2019.
USATODAY.com - Published
Robocall revenge: Meet the techies turning the tables on scammers
Robocalls are not just annoying: More than 40 percent of them are believed to be scams. Last year, Microsoft discovered that more than 60 percent of people across 16 countries, including the U.S., were..
CBS News - Published
The Diets Of Five Billionaires
Richard Branson, founder of Virgin Group, estimates he drinks 20 cups of tea a day. Amazon CEO Jeff Bezos said he avoids morning meetings so he can eat a healthy breakfast. Investor Mark Cuban said his..
Credit: Wochit News Duration: 00:33Published
Xbox and Keanu Reeves unveil new console and games
Microsoft has unveiled its next-generation Xbox console, known as "Project Scarlett," which is set to hit store shelves during the 2020 holiday season. Keanu Reeves made a surprise appearance to unveil..
Credit: Reuters Studio Duration: 01:57Published
Wall Street rises sharply on rate cut hopes
Wall Street's major indexes shot higher Friday, as sharply slowing U.S. job growth boosted hopes for interest rate cuts while optimism about potential progress in U.S. trade fights with China and..
Credit: Reuters Studio Duration: 01:01Published
GameStore shares nose-dive
GameStop shares lost a third of their value Thursday morning after the video games retailer halted its quarterly dividend and reported a drop in revenue. Fred Katayama reports.
Credit: Reuters Studio Duration: 01:01Published
World's big firms see $1tln hit from climate change
The world's biggest firms are expecting climate change to cost them over $1 trillion, according to a report published Tuesday. Julian Satterthwaite reports.
Credit: Reuters Studio Duration: 01:26Published
Powerful People In Tech A Part Of LGBTQ+ Community
According to Business Insider, "Tim Cook is arguably the most prominent LGBTQ+ person in tech, but he isn't the only one. There are LGBTQ+ identifying individuals in prominent roles as venture..
Credit: Wochit News Duration: 00:39Published
Wall Street ends lower after Trump tariff threat
U.S. stocks fell on Monday after President Donald Trump threatened to raise tariffs on Chinese goods. Fred Katayama reports.
Credit: Reuters Studio Duration: 01:06Published
Vegan burger company Beyond Meat's IPO sizzles
Vegan burger maker Beyond Meat Inc, which counts Microsoft founder Bill Gates and actor Leonardo DiCaprio among its investors, on Wednesday priced its initial public stock offering at $25 per share,..
Credit: Reuters Studio Duration: 01:25Published
3M hampers Dow, tech powers Nasdaq to record
The Dow finished lower as dismal results from 3M added a note of caution to earnings season, but solid results from Microsoft lifted the Nasdaq to a lifetime high. Conway G. Gittens reports.
Credit: Reuters Studio Duration: 01:36Published
New Zealand PM Jacinda Ardern Wants To Slow the Spread Of Violent Content Online
New Zealand Prime Minister Jacinda Ardern is connecting with major tech companies like Facebook, Google, Microsoft and Twitter. According to Business Insider, Ardern wants to slow the spread of violent..
Credit: Wochit News Duration: 00:32Published
Search this site and the web:
You Might Like