Eric Garcetti
Mayor of Los Angeles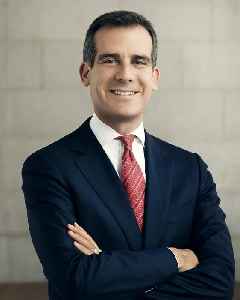 Eric Michael Garcetti is an American politician serving as the 42nd and current mayor of Los Angeles since 2013. A member of the Democratic Party, he was first elected in the 2013 election and won reelection in 2017. A former member of the Los Angeles City Council, Garcetti served as council president from 2006 to 2012. He is the city's first elected Jewish mayor, its youngest mayor in history, and its second consecutive Mexican American mayor.


You Might Like
L.A. residents drive up for free coronavirus tests
The city of Los Angeles is offering free coronavirus testing to all residents regardless of whether they have symptoms. Big lines of cars appeared at testing sites, one day after Mayor Eric Garcetti..
USATODAY.com - Published
Los Angeles mayor Eric Garcetti says large gatherings, such as sporting events, might not return until 2021
Large gatherings at public events, such as sports, could remain banned in Los Angeles until at least 2021 due to the novel coronavirus.
USATODAY.com - Published
Los Angeles mayor says large events not likely until 2021: CNN interview
Los Angeles Mayor Eric Garcetti said on Wednesday large gatherings like concerts and sporting events were not likely to be allowed in the city until 2021 due to the coronavirus outbreak.
Reuters - Published
Los Angeles mayor tells 4 million to wear masks
The mayor of Los Angeles urged 4 million residents to wear masks to combat the coronavirus when they walk out in public. Mayor Eric Garcetti reminded people to practice safe social distancing as he..
USATODAY.com - Published
Los Angeles coronavirus cases could match New York in days
Coronavirus cases in Los Angeles are spiking, putting the region on track to have as many cases as hard-hit New York in five days, Mayor Eric Garcetti said on Friday, speaking from a naval hospital..
Reuters - Published
Coronavirus in California: Newsom Orders Bars, Wineries to Close
Monday: The governor told bars to close and residents 65 and older to stay home. Also: Mayor Eric Garcetti, of Los Angeles, ordered new restrictions.
NYTimes.com - Published
Joe Biden gets endorsement from Los Angeles mayor
Los Angeles Mayor Eric Garcetti endorses Joe Biden for president, calling him "the right leader at the right moment." (Jan. 10)  
USATODAY.com - Published
Also reported by •NYTimes.com
Los Angeles Mayor Garcetti backs Biden in Democratic presidential race
Former Vice President Joe Biden on Thursday picked up the endorsement of Los Angeles Mayor Eric Garcetti as he attempts to consolidate the support of the Democratic establishment behind his..
Reuters - Published
Los Angeles Mayor: Fire conditions still dangerous
Los Angeles Mayor Eric Garcetti says that while some residents are able to return to their homes, a wildfire that has forced thousands of people to evacuate will remain dangerous with strong winds..
USATODAY.com - Published