Eric Garcetti
Mayor of Los Angeles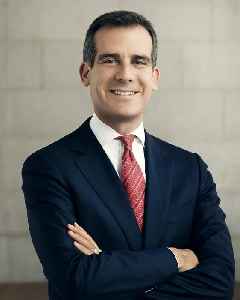 Eric Michael Garcetti is an American politician serving as the 42nd and current mayor of Los Angeles since 2013. A member of the Democratic Party, he was first elected in the 2013 election and won reelection in 2017. A former member of the Los Angeles City Council, Garcetti served as council president from 2006 to 2012. He is the city's first elected Jewish mayor, its second consecutive Mexican American mayor, and at age 42 at the time of his inauguration, the youngest in over 100 years.


LA Hits Record Low Hospitalizations For COVID

Covid-19 hospitalizations in Los Angeles are at their lowest since April. The number has fallen to its lowest level since early April, Mayor Eric Garcetti announced. "Today, 1,062 Angelenos are in..
Credit: Wochit News Duration: 00:34
Published
DHS chief Wolf says cannot police U.S. poll sites

The acting director of the U.S. Department of Homeland Security on Sunday said he didn't have the authority to send officers to watch polling sites, after President Donald Trump said he would deploy..
Credit: Reuters - Politics Duration: 01:45
Published
You Might Like



8/23: McDaniel, Garcetti, Comey, Gottlieb, Robbins

This week on "Face the Nation", halfway through this year's unconventional political conventions, the spotlight turns to the Republicans to make their case that President Trump deserves a second term.




CBS News - Published





Transcript: Eric Garcetti on "Face the Nation"

The following is a transcript of an interview with Los Angeles Mayor Eric Garcetti that aired Sunday, August 23, 2020, on "Face the Nation."




CBS News - Published





Los Angeles Mayor Eric Garcetti accuses Trump of "killing Americans" with COVID response

Garcetti faulted the president and the federal government for failing to control the pandemic, saying it has become "much more of a Latino disease."




CBS News - Published





Bryce Hall, TikTok Influencer, Has Power Shut Off by Los Angeles

This month, Mayor Eric Garcetti said that Angelenos who violated the city's guidelines on gatherings during a health crisis would have their water and power turned off. Today, he followed through.




NYTimes.com - Published





LAPD Pushes Back Against Mayor's Threat to Cut Utilities at House Parties

The LAPD is pushing back against Mayor Eric Garcetti's threat to kill power at homes defying COVID-19 orders ... because cops don't want any more beef with citizens. Here's the deal ... Garcetti..




TMZ.com - Published





L.A. Partiers Skirt Garcetti's Utility Shut-Off Threat, Rage in a Lot

L.A. Mayor Eric Garcetti's gonna be pissed when he sees this, because some raging Angelenos figured a way around the Mayor's threat to shut off utilities for coronavirus scofflaws. Check out this wild..




TMZ.com - Published





Los Angeles to cut water and power to homes hosting large gatherings amid pandemic

Los Angeles Mayor Eric Garcetti said Wednesday that he is authorizing the Los Angeles Department of Water and Power to shut off utility service to properties where large parties and gatherings are held..




CBS News - Published





Protests in L.A.: Garcetti's Proposal to Defund Police

Monday: Marqueece Harris-Dawson, a Los Angeles councilman, talks about why protests haven't died down.




NYTimes.com - Published





L.A. residents drive up for free coronavirus tests

The city of Los Angeles is offering free coronavirus testing to all residents regardless of whether they have symptoms. Big lines of cars appeared at testing sites, one day after Mayor Eric Garcetti..




USATODAY.com - Published





Los Angeles mayor Eric Garcetti says large gatherings, such as sporting events, might not return until 2021

Large gatherings at public events, such as sports, could remain banned in Los Angeles until at least 2021 due to the novel coronavirus.




USATODAY.com - Published





Los Angeles mayor says large events not likely until 2021: CNN interview

Los Angeles Mayor Eric Garcetti said on Wednesday large gatherings like concerts and sporting events were not likely to be allowed in the city until 2021 due to the coronavirus outbreak.




Reuters - Published





Los Angeles mayor tells 4 million to wear masks

The mayor of Los Angeles urged 4 million residents to wear masks to combat the coronavirus when they walk out in public. Mayor Eric Garcetti reminded people to practice safe social distancing as he..




USATODAY.com - Published





Los Angeles coronavirus cases could match New York in days

Coronavirus cases in Los Angeles are spiking, putting the region on track to have as many cases as hard-hit New York in five days, Mayor Eric Garcetti said on Friday, speaking from a naval hospital..




Reuters - Published




Coronavirus in California: Newsom Orders Bars, Wineries to Close

Monday: The governor told bars to close and residents 65 and older to stay home. Also: Mayor Eric Garcetti, of Los Angeles, ordered new restrictions.




NYTimes.com - Published





Joe Biden gets endorsement from Los Angeles mayor

Los Angeles Mayor Eric Garcetti endorses Joe Biden for president, calling him "the right leader at the right moment." (Jan. 10)  




USATODAY.com - Published

Also reported by •NYTimes.com


Los Angeles Mayor Garcetti backs Biden in Democratic presidential race

Former Vice President Joe Biden on Thursday picked up the endorsement of Los Angeles Mayor Eric Garcetti as he attempts to consolidate the support of the Democratic establishment behind his..




Reuters - Published




Los Angeles Mayor: Fire conditions still dangerous

Los Angeles Mayor Eric Garcetti says that while some residents are able to return to their homes, a wildfire that has forced thousands of people to evacuate will remain dangerous with strong winds..




USATODAY.com - Published